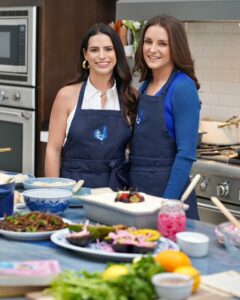 Some of our greatest memories come from sitting at our Abuela's Counters and watching her prepare a meal. We would sit by and watch as the food would come alive.
When we got old enough, she would eventually show us her ways. It felt like she was letting us in on the biggest secret
Today, when we look back at these memories, what really stands out is the joy. As our Abuela's were prepping and cooking all this delicious food the smile was always visible.
Now as moms, we know that this smile was not just that they had a love for cooking. That smile was there because they knew the food they were preparing would bring together the family. Everyone would gather together and share whatever delicious meal she cooked up.
This is where it started for us. The place we learned to cook. The place we learned our love for food. We want to bring that feeling, that experience to you.
We want to create a space where you can learn to cook.  A space where you feel brave enough to try that big recipe that you loved growing up. We want to teach you techniques and recipes that can help bring the kitchen to life and bring your family together.
Chef Ani Mezerhane is married with two kids. Ani has been a lover of food since she could walk. She went to culinary school at Le Cordon Bleu, and gained life long lessons working at a restaurant and owning her own catering company. She still credits her childhood home, her mom, Abuelas and tias, as a source of constant inspiration.
Cristina Bustamante is married with three kids.  Cristina has been in love with food since her first bite of a croquetta.  She went to law school, has run her own business, and is currently running a blog/newsletter, Surviving Cristina.  Cristy also owes her love of cooking to her Abuela and Tias who showed her how special it can be to express your love with food.
No matter what we do, it always comes back to food. It all goes back to sitting at Abuela's counter and learning about life. Learning how food doesn't just feed us, but brings us together.
As seen on The Today Show!