Our Abuela's Cuban Camarones Enchilados Recipe is a step by step guide to building a classic Cuban dish that everyone in the family can enjoy.
Cuban Camarones Enchilados is basically shrimp thrown into a Sofrito. So really you are just cooking your onions, and peppers in the seasoning, throwing in the tomato sauce and it's done. You throw the shrimp in a few minutes before serving. The flavors are so delicious that people will think you were working on it all day.
Camarones Enchilados is an absolute star dish. It's beautiful to look at and it's even more delicious to eat. The best part is, that it is actually really easy to do, and doesn't take too much time. So take out that calendar, you can already start planning your next dinner party.
What makes Abuela's Cuban Camarones Enchilados A Star
Camarones Enchiladas is just full of incredible flavor. This dish from start to finish could be on the table in 40 minutes. It's impressive how all this flavor can build so quickly. The peppers, onions, garlic all marry together so beautifully in the tomato sauce. The colors just pop. It is an absolute party for the eyes and the mouth.
Serve it over the Perfect White Rice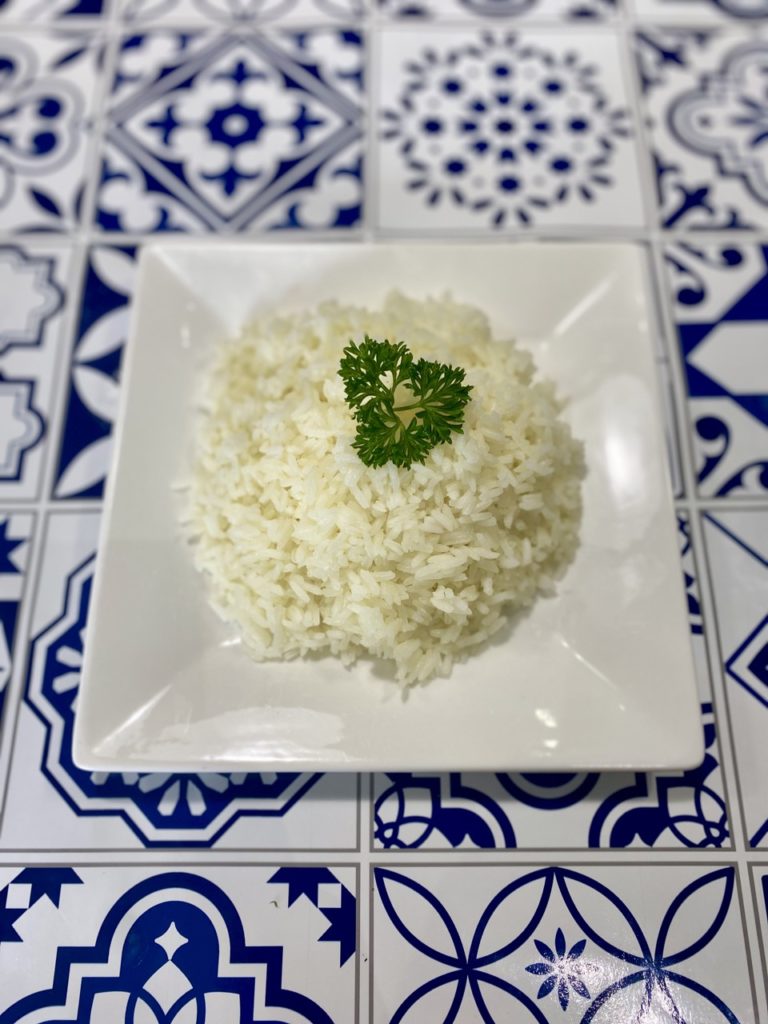 Our Tips for Making Cuban Camarones Enchilados
Rinse the shrimp and make sure you pat them dry with a towel before seasoning them.
Season the shrimp with Creole Seasoning and Salt and mix well before adding them to your Sofrito.
Place the Saffron in Water or broth for a few minutes before adding it into the sauce. This helps it open up and will bring the best flavor
You can use Fresh or Frozen Shrimp for this Recipe, but if you use frozen just make sure it is defrosted.
If you are hosting a dinner party and you are pressed for time. You can even make the Sofrito Sauce the night before, and just heat it up when it's time. Then just throw in the shrimp and once again- You're a hero. Not just any hero, a food hero.
Abuela's Camarones Enchilados
Course: Entree
Cuisine: Cuban
Difficulty: Easy
Ingredients
1.25 – 1.5 pounds, large shrimp, peeled, devained with tails on 


1 red pepper, finely chopped  

1 cubanelle pepper, finely chopped  

2 white onions, finely chopped 

26 oz crushed tomatoes

1/2 cup Parsley, finely chopped 

2 tablespoons of garlic, finely chopped 

1 tablespoon of Worcestershire sauce 

1 packet of Sazón con achiote 

1/4 cup extra Virgin olive oil 

1 – 2 teaspoons salt

Pepper to taste 

1 teaspoon of creole seasoning 

Pinch of red pepper flakes 

A few threads of saffron, bloomed in 1 cup of seafood stock 

1/2 cup of brandy, I like Cardenal Mendoza

1/2 cup parsley, finely chopped
Directions
In a large sauce pan, on medium high heat, add onions, peppers, red pepper flakes, Sazon, salt and pepper. Sauté for 8 minutes until soft. Add garlic and cook but don't let it burn.

Once the vegetables are soft, move them to the side of the pan, and add in the garlic. Add a little more olive oil if necessary and cook the garlic, but be careful not to let it burn.
Once the garlic is cooked, mix it in with the rest of the vegetables.
Pour in tomato sauce, 2 tablespoons of Worcestershire, cardenal Mendoza brandy and the saffron with water. Cook for 7-10 minutes on high so that it cooks down. Be sure to mix it often so it doesn't stick.
While that is cooking, place the shrimp in a bowl. Rinse them out if you haven't done so, and make sure you dry the shrimp. Sprinkle creole seasoning,  salt and pepper over the shrimp and mix well.
Add the shrimp to your Sofrito Sauce once it has cooked down. Sauté for 3-6 minutes or until they are bright pink and curled up.
Move them around the pan to be sure they are cooking evenly.
Add parsley and serve. You can serve over white rice.