There is something so comforting about a warm tomato soup. Just the thought of dunking a grilled cheese into a rich delicious pool of summer ripened tomatoes is bliss. But the tomato soup has to be right. Not all Tomato Soups are created equal.
For us it's important that the tomatoes shine. Sometimes we find tomato soups just have more of a Marinara Sauce flavor, and less tomato-ey. Don't get us wrong we love marinara, with our linguini, but when we have a Tomato Soup we want it to be true to the name.
We decided to use heirloom yellow tomatoes for their gorgeous golden color, but red tomatoes work just as well too. The key is to make sure that whatever you use is ripe! We purposely left out traditional ingredients like garlic, oregano and thyme, so the tomatoes can truly shine on their own.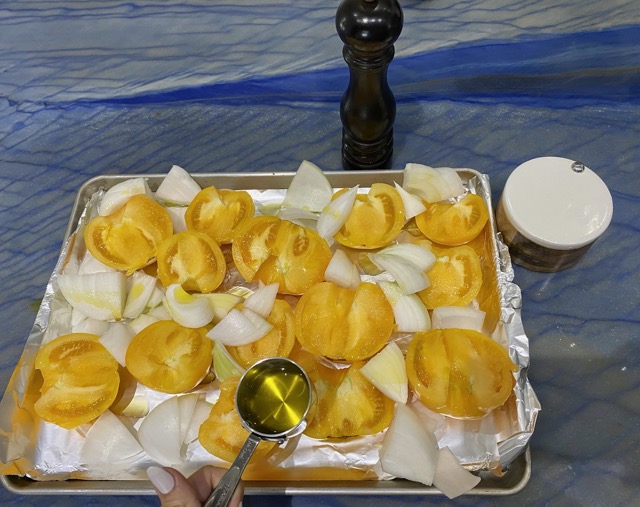 A Few Notes on Our Easy Tomato Recipe
We fully support the use of The Instant Pot in this recipe and really any time you can. The reason we like it in this recipe is because it cuts so much time, and it brings bigger flavor. It makes the tomatoes and onions perfectly tender,
If you do not have an Instant Pot, you can boil them in the broth for 45 minutes after they've been roasted to achieve the same result.
We wanted this soup to be on the healthier side using veggies and the tomatoes themselves to make it thick. If you wanted to do something a little creamier, just add ½ cup of cream once it's blended.
No matter what, add some basil and a dollop of crème fraiche or sour cream once you serve. We wouldn't want to mess too much with a classic.
Easy Tomato Soup Recipe
Course: Soups
Cuisine: American
Difficulty: Easy
Ingredients
6-7 medium sized yellow tomatoes

1 large onion

1 cup of carrots, peeled and chopped

1 zucchini, peeled and chopped 

1 fennel, chopped trim leaves and remove the tough middle core 

4 cups of Vegetable broth

1/3 cup of extra virgin olive oil

Garnish: crème fraiche our sour cream, chopped cherry tomatoes or basil
Directions
Preheat oven to 425 degrees. Line a sheet pan with foil or parchment paper. Place the tomatoes and onion on the pan. Toss with olive oil, salt and pepper. 
Bake for 20 minutes. Stir around the vegetables. 

Set on high broil. Be sure the pan is in the middle rack and not too high. Broil for 7-12 minutes depending on your oven. You want the edges of the tomatoes and onions to be charred but not burnt.
Pour the tomatoes and onions into an Instant Pot. Add all the other veggies and the vegetable broth. 

Set at the pressure cooker setting on soup mode for 12 minutes. You want to see the onions and tomatoes very soft and falling apart.

Blend on high with an immersion blender. If you don't have an immersion blender you can use a Vitamix or Blender. Taste it and add some more salt and pepper. Blend again. 

Serve warm and garnish with a dollop of something creamy like Sour Cream or Creme Fraiche.