Abuela's Counter was founded by Ani and I because of a deep love and respect for our Abuela's and the other incredible women in our family. We immediately bonded over recipes and ingredients. However what really connected us was sharing our stories about our Abuelas and all the things they taught us. It's incredible the way food can tie you to so much. It can nourish you not only physically, but certain foods have a way of nourishing your soul.
For us, most of the dishes we feature on Abuelas Counter, are dishes that bring us right back to childhood. The dishes that bring us back to the kitchen with Abuela and just learning about life.
Unfortunately, we have both experienced the loss of our Abuelas. My Abuela, Yaya, passed a little over 12 years ago. She would host Sunday lunch at her house, for over 40 people, and each week she would surprise us with a new recipe. One of my favorite moments was opening the front door to her house, and taking a big breath in to try and figure out what she made. I can still smell the Vaca Frita or Bistec de Palomilla if I really try. I loved everything she made. Well maybe most things, I really could have done without her tamale en cazuela. However, no one is going to please 40 different people every week. Not even Yaya.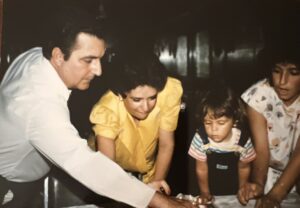 Losing our Abuelas was definitely something Ani and I bonded over. It's another reason we wanted to build a community like Abuela's Counter. We both found so much connection to our Abuelas when we cooked. There was just something almost magical that would happen every time we set up in the kitchen to cook. This was especially true as we became mothers with families of our own to feed.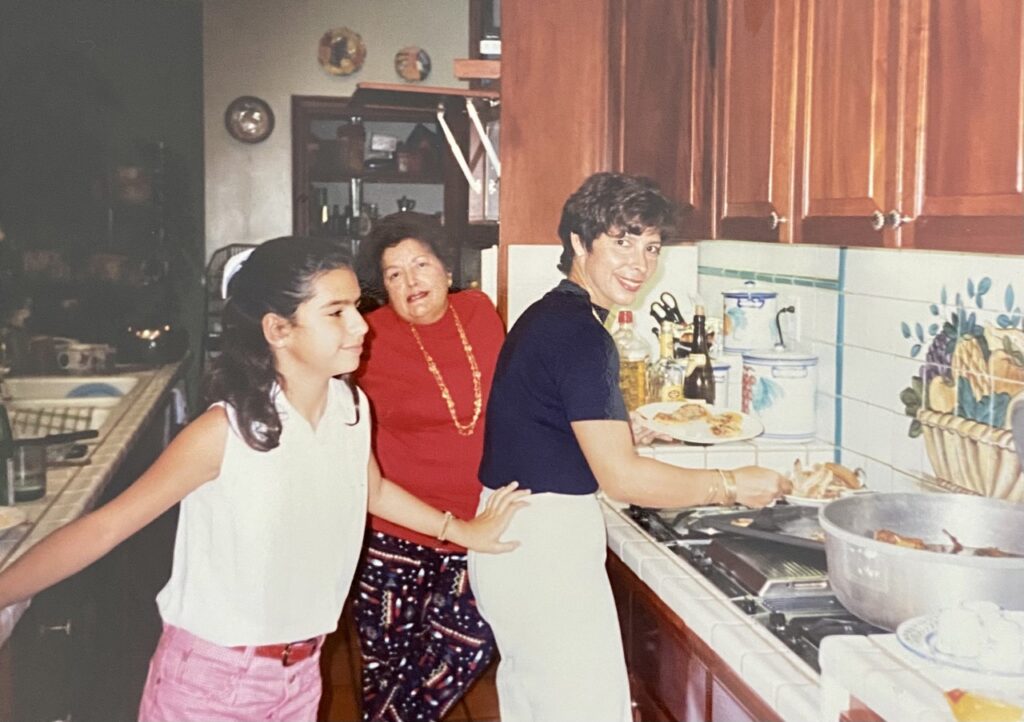 There is just something special about making a dish like Arroz Con Pollo or Picadillo. The recipes like this, with history, are more than just another meal on the table. Recipes like this, also simultaneously connect you to each and every time it was served throughout in the course of your life. It does more than that. It connects you to your ancestors. It connects you to your roots.
This dish can suddenly transport you back to being a child, and having your mom or Abuela serve you a delicious heaping of arroz con pollo. You happily picked out the peppers, as you dug into something that was just so much more than rice and chicken.
It's a meal that has nourished and been part of your family for generations. It's the history of your family. It is your memories.
That feeling. That's what brought us here.
We wanted to create a space where we could showcase these recipes. The recipes that make you feel connected to something that is bigger than you. The recipes that bring back years and years of memories, and somehow taps you into the generations before you. Recipes that allow you to feel the roots of where you came from.
Our second mission within this space was to carefully break down these recipes to make them accessible. We wanted to simplify it. To empower people to feel like they could also take on these giant recipes and not only make them but find a way to put their special spin on it for the future generation.
We get so many messages from people requesting special recipes. We also get messages sharing with us how a recipe on our site helped bring back memories and tradition in a way they didn't know was possible. We want to share these messages.
We know our story is not unique. Our experience with our Abuelas and our moms and tias transcends into all cultures and families in so many beautiful ways. So we want to start sharing some of your stories. Look out for more stories and recipes from our community. 
Thank you for being here.
Love, Cristy and Ani