Summer Chopped Salad is going to be your new summer go-to. Summer is here. Hopefully this means a lot of pool, beach or BBQ in the near future.
We love hosting a good BBQ. That means a lot of focus on our proteins, like our Sazon Chicken Wings, or our Oven Roasted Ribs, but the true hero of a good BBQ is the salad. You need sides to fill up those plates, and this Summer Chopped Salad has all the notes you want to hit.
This Summer Chopped Salad is a crowd pleaser. Since all the veggies are chopped in a similar size the salad stays crunchy even when it's been dressed for a couple hours. Nobody wants a soggy salad.
Our Tips for Making Your Summer Chopped Salad
We highly suggest getting a fresh head of lettuce and giving it a fresh chop. This will definitely make the salad crisp. However there is nothing wrong with opening a bag of lettuce, we get it it is a lot quicker.
We of course think you should try out the vegetables we suggest below. However, feel free to adjust it according to what you or your family and friends like to eat. Recipes are guidelines, not contracts.
No matter what vegetables you go with, the important thing is to be sure to chop every vegetable into the same size. Start by slicing everything about 1/8-inch thickness then dicing it. The only thing that may look different in this recipe is the green onions, the green onions can be thinly sliced.
You want to try to be consistent but it doesn't have to be perfect!
The chopping is really the only work you will be doing, once you are done with that you just mix it all together with our delicious Buttermilk Ranch Dressing (we don't trust anyone who doesn't love ranch). One more hot tip: spoon a little of the dressing in the bottom of the plate and then pile the dressed salad on top.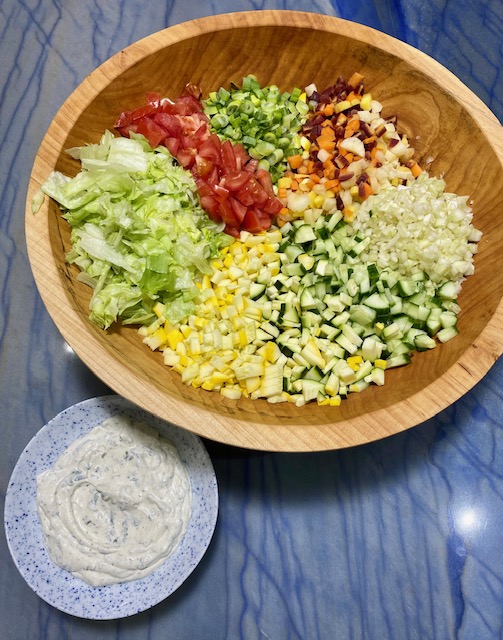 Happy Hosting!
Summer Chopped Salad
Course: Appetizers
Cuisine: American
Difficulty: Easy
Ingredients
1 head of iceberg lettuce, cored and disregard the first few layers of leaves


1 yellow squash


1 zucchini squash


½ fennel


4 carrots (rainbow carrots if you can find them)


6 green onions


1 large tomato
Directions
Once everything is rinsed, and chopped- get it into the bowl and mix with our Buttermilk
Ranch dressing.