Donuts and bread pudding – two words that are perfect on their own but even more delicious when you put them together.
The Salty Donut's glazed donuts inspired us to make this recipe. For those of you who are Miami locals, we do not have to explain to you the majesty that is a Salty Donut Glazed Donut. It's about as close to perfection as any donut can hope to get. Their gourmet glazed donuts are made from brioche dough, and are so plump yet light. Then these plumpy friends are dipped in a vanilla bean glaze that will just leave you wanting more.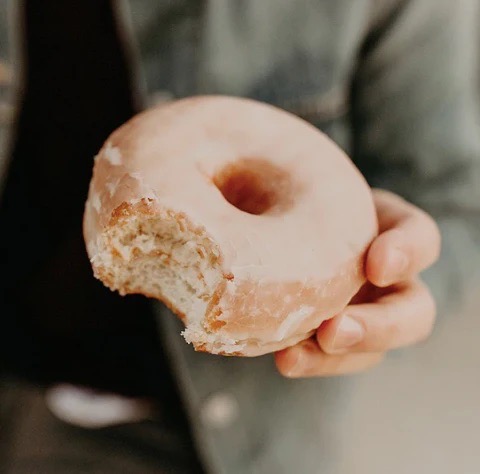 This plump brioche dough and vanilla bean glaze also happen to be the perfect base for a bread pudding. If you don't have a Salty Donut store near you, use any glazed donut, but keep in mind you will need about a dozen since other donut brands are usually a lot smaller.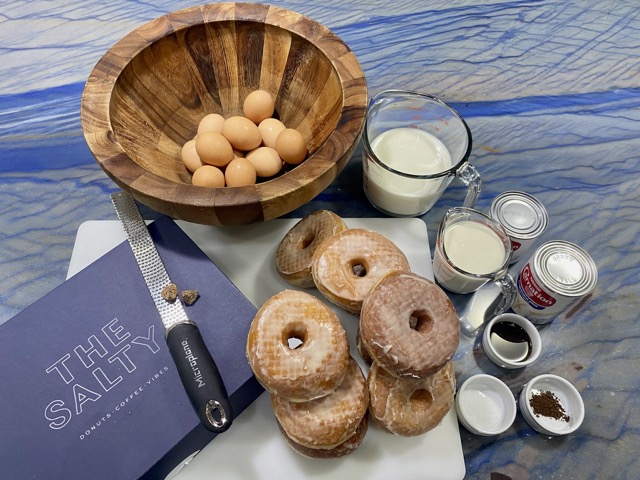 Donut bread pudding is made of glazed donuts and a creamy vanilla custard. We pair this bread pudding with both a Whiskey Sauce and a Chocolate Sauce. You can serve it with both, just one or neither. The bread pudding is pretty out of this world good on it's own. The caramelized golden crust protects the delicate moist inside of the bread pudding. Since it is cooked in a Baño Maria (water bath), the inside is creamy like a thick custard.
Our Biggest and Best Tip for Making this Donut Bread Pudding
The secret to any bread pudding is day-old bread. Bread that is dried out allows the custard to seep into every piece. If you have leftover donuts (never happens in my house) use those! If not, put fresh donuts in the fridge for a day or two before using.
Donut Bread Pudding
Course: Dessert
Cuisine: American
Difficulty: Easy
Ingredients
8 large glazed donuts, cut into 1 to 2-inch pieces

4 egg yolks

8 whole eggs

2 ½ cups of milk 

2 cups of heavy cream

2 tablespoons of vanilla

1 teaspoon of vanilla bean powder

1 can of sweet condensed milk

1 can of evaporated milk  

Pinch of freshly grated nutmeg

¼ cup of sugar

¼ teaspoon of salt

Garnish: Whiskey Sauce, Chocolate Sauce, Shaved Chocolate
Directions
In a measuring cup or small bowl, whisk together the vanilla bean powder into the milk. (This will help it dissolve easier)
In a very large bowl, mix the eggs, vanilla milk, evaporated milk, condensed milk, cream, nutmeg, sugar and salt. Whisk together until everything is completely blended. 
Dump the donut pieces into the bowl. Mix together so all the donuts are completely submerged by the custard mixture. Refrigerate for 3-6 hours
When ready to bake, preheat oven to 350 degrees.
Pour the donuts and all the custard liquid into a baking dish. We use a 9 x 11 baking dish. Use something that is not too deep, yet not too shallow. 
Set up a bano maria (water bath) by placing the baking dish inside of a larger dish. Place this in the middle rack of the oven. Fill the larger pan of the bano maria with warm water about halfway up or upto ¾ of the way up. Careful – don't get any water into the bread pudding! 

Bake for 55-65 minutes or until the top is a deep golden brown and the bread pudding has set. (If you have a very deep baking dish it will take at least 20 minutes more)
If you want a very crusty topping, you can broil it for 3-5 minutes. Most of the time it isn't necessary because it will form a crust as it bakes. 

Remove from the oven and let the bread pudding sit in the water bath for 30 minutes. This will help the bread pudding set up but keep it warm as well. 

Serve while it's still warm with a drizzle of the chocolate and whiskey sauces. A big scoop of ice cream wouldn't hurt either.'