Cuban food tends to be saucy, garlicky and heavy. The food naturally begs for a fresh salad. Think about it… Is there anything better than a crispy fried palomilla with white rice, tostones and a crisp cold refreshing salad?

Salads growing up were sparse. They consisted of lettuce, chunky tomato, and sliced white onions with a splash of white vinegar. If we were lucky a piece of avocado found its way in. I'm always thinking of different ways to make salads interesting and different. We love salads that just draw you in with all their colors and flavors.
This recipe is not Abuela's basic salad! The crunch and colors make this spring salad special. It is fit for Easter feast or any springtime dinner. This salad uses a lot of vegetables you find in spring. We especially love the combination of Easter egg radishes and watermelon radishes. If you're having a hard time finding any of these, use what you like. Our only advice is to keep it colorful.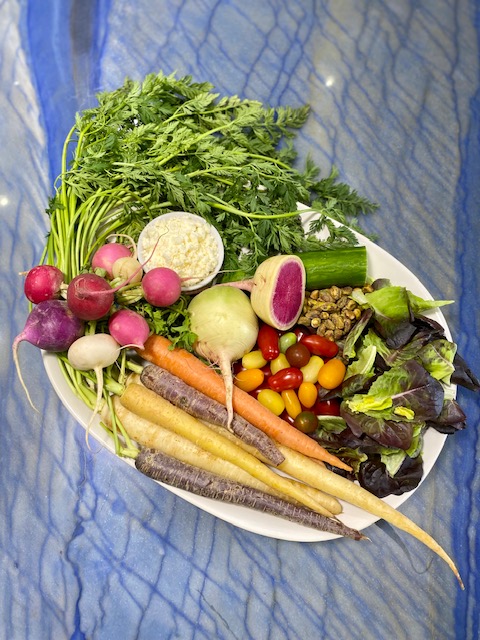 If you have a mandolin, slice everything using the thinnest setting. If you don't feel comfortable using a mandolin, use a food processor with a slicer attachment or shred the veggies on a box grater. The point is to slice all the veggies similarly so it all looks beautiful and each bite is balanced.
The dressing is a Citrus Honey that compliments the vegetables and brings a little bit of a pow.
Abuela's Spring Salad
Course: Salads, Sides
Cuisine: Mediterranean, American
Difficulty: Easy
Ingredients
3 rainbow carrots, rinsed, peeled and thinly sliced


1 watermelon radish, rinsed and thinly sliced


4 easter radishes, rinsed and thinly sliced


1 cucumber, rinsed and thinly sliced


1 bag of butter lettuce


1 cup of cotija cheese, crumbled


1 cup of cherry tomatoes, sliced


1/2 cup of pistachios, coarsely chopped


juice of 1 lemon


zest and juice of 1 orange


1/2 cup of extra virgin olive oil


2 tablespoons of honey


1 tablespoon of dijon mustard

salt and pepper
Directions
Assemble the salad using the butter lettuce as the base and rotating everything so you can see the colors.

In a small bowl whisk together the dijon, juice, zest, salt and pepper. Slowly whisk in the oil so the mixture is completely incorporated.

Taste and adjust seasoning if needed. Keep in the fridge until serving. Drizzle over the greens when you are ready to eat.