This Lemon Pepper Fish Recipe is an easy sheet pan meal to add into your arsenal.
Sheet Pan Meals are the best meals! Everyone loves a sheet pan meal. They are easy to make, and are delicious. It is an easy clean up, which is music to every at home chef's ears. Sheet Pan Meals allow you to have all the delicious magic of a meal that tastes like you slaved all day, but the ease of throwing away the parchment paper (or aluminum) and tossing the pan in the dishwasher.
Here is everything you will need. Another great plus about this Sheet Pan Recipe is that you likely have everything you need already in your pantry. Just need to secure the fish.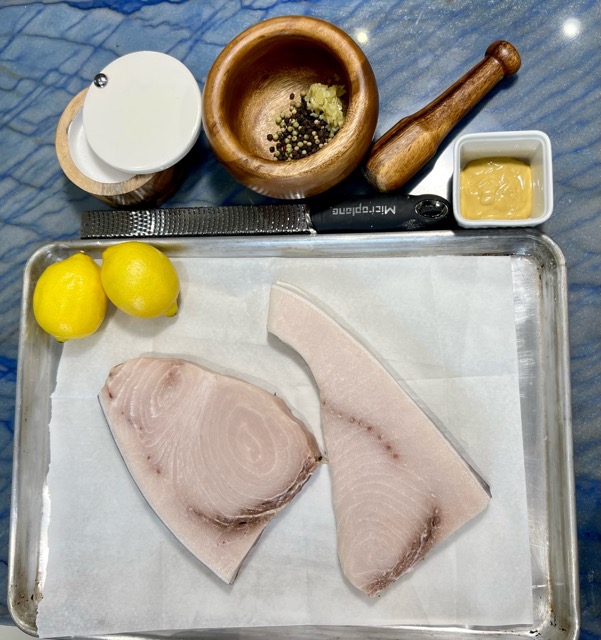 We love this Lemon Pepper Swordfish Sheet Pan Meal Recipe because of the marinade. The marinade takes you by surprise. At first glance you think it's going to be very spicy. But we need you to trust us, it's not. It's just right.
Here are our tips for this Lemon Pepper Swordfish Sheet Pan Meal:
Using whole peppercorns and gently pounding them keeps the dish very flavorful and fragment. The more you grind the peppercorns, the spicier they will be.
We used spinach for this recipe but you can use kale, frozen peas, corn or any vegetable that can cook in the short amount of time you broil the fish.
Our favorite Sheet Pan was just rated the best Sheet Pan by Wirecutter and it's only $16 at Home Depot! Check it out HERE
Sheet Pan: Lemon Pepper Swordfish
Course: Entree
Cuisine: Cuban American
Difficulty: Easy
Ingredients
2 swordfish steaks (be sure the steaks are 1-inch think. Each steak should be about 1 pound)

2 tablespoons of whole peppercorns (if you want it a little less peppery add only 1 1/2 tablespoons)

Zest 2 lemons

juice 2 lemons

4 garlic cloves, finely chopped

1/4 cup olive oil

1 tablespoon of Dijon mustard

1 teaspoon of salt

1/2 teaspoon creole seasoning or fish seasoning

2, 5-oz bags of baby spinach

Garnish: chopped parsley and lemon wedges
Directions
Preheat oven to 400 degrees. Line a sheet pan with parchment paper and lay the swordfish fish steaks on top. Set aside.
In a mortar and pestle, add the peppercorns and garlic. Crush them just until a few start to break down. Then add the zest and juice of the lemons, olive oil and Dijon mustard. Cover slightly with your hand or a towel to avoid some splattering and pound down on the ingredients. It should look like a crunchy salad dressing. (*You do not need to completely grind the peppercorns. You just want to crush them slightly and open them up.)
Sprinkle the swordfish evenly with salt and both sides. Completely smother the swordfish with the sauce on both sides. Try to get most of the peppercorns on the top of the fish.

Then sprinkle with the creole or fish seasoning.

Bake for 12 minutes in the middle rack. Pull out the tray from the oven. You will see the fish has released some liquid and it has mixed in with the sauce. This is exactly what you want to see.
Add the spinach around the fish and place back in the oven but on the top rack.

Broil on high for 5-7 minutes. Keep an eye out to be sure it doesn't burn. The fish should become golden and the spinach will wilt and slightly char in parts. Serve with chopped parsley and lemon wedges.