This Papas Gratinadas Recipe is a cheesy delicious Cuban twist on potatoes au gratin. Easy to follow and is a great side dish for a big holiday or even just a regular week day. Who doesn't love Potatoes Au Gratin?
Papas Gratinadas really are such a great side to serve all year long. They are a pretty easy dish to put together and are absolutely delicious. The potatoes come out so rich and creamy, making them the perfect accompaniment to liven up a Roast Chicken. Like our delicious Alita's Roast Chicken: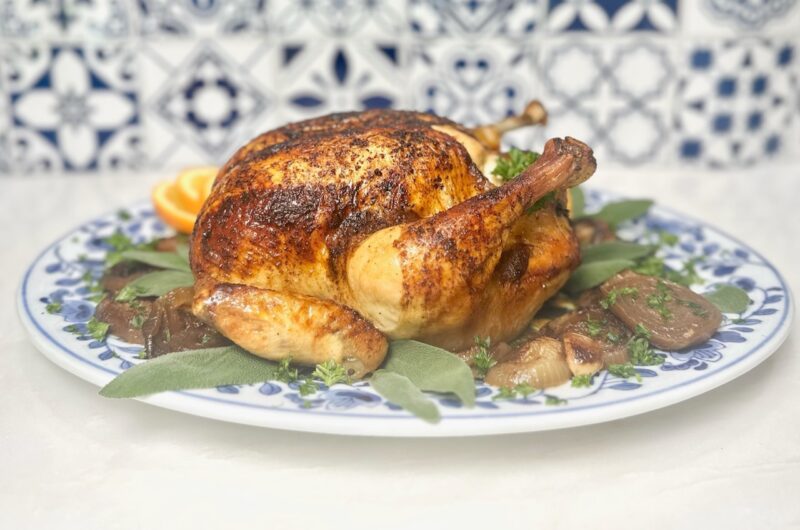 Alita Oliva's Roast Chicken Recipe takes you step by step, so that you can make one of the world's greatest comfort foods. This Roast Chicken is going to be an instant classic.
What is Papitas Gratinadas?
Potatoes Au Gratin are thin slices of potato usually covered in a creamy cheese sauce. It is essentially, one of the most perfect foods. It is an unbeatable combination of potatoes and cheese. How could this be bad? This will have everyone begging for more. In the words of Jessica Simpson, "irresistible".
I mean have you ever met a Potato Au Gratin that you didn't love?
My mom made everything from scratch growing up. Well almost everything. When she made potatoes au gratin she would buy the Betty Crocker box of au gratin or scalloped potatoes and doctor it up. My grandmother Marta would add cream cheese, bite-sized pieces of ham and an egg to the mix. My mom would add fresh herbs and freshly grated parmigiano Reggiano. It was semi homemade, but you know what – it was delicious.

Ani
Ani came up with this recipe and it is completely from scratch and just as good. Her boys absolutely cannot get enough of it, and we think your friends and families will feel the same. The most challenging part is going to be cutting the potatoes. You want to be sure you are cutting them as thin and uniformed as possible. This will help them cook evenly. Don't slice the potatoes until you are ready to assemble. If you cut too far in advance they will brown and not absorb the milk. There is no coming back from that.
These creamy potatoes are always irresistible. It accompanies grilled summer meats as well as it does a Thanksgiving turkey. Try it with our Sheet Pan: Flanken Beef Ribs, Ropa Vieja, or Pork Tenderloin.
Cheesy Potatoes Au Gratin (Papas Gratinadas)
Course: Sides
Cuisine: American
Difficulty: Easy
Cooking time
1
hour
30
minutes
Ingredients
4 yukon gold or red bliss potatoes, unpeeled thinly sliced 

1 tablespoon of garlic powder


½ tablespoon of onion powder


4 garlic cloves, very finely minced


1 cup whole milk


½ cup of half and half

½ cup of Gruyere cheese

¼ cup of Parmigiano Reggiano cheese

Freshly grated nutmeg

1 ½ teaspoons of salt and pepper

2 sprigs of thyme, leave removed from stem but kept whole
Directions
Preheat oven to 350 degrees.
In a large measuring cup add the garlic powder, onion powder, minced garlic, milk, half and half, 1 teaspoon of salt and pepper. Grate a small amount of nutmeg into this bowl and whisk together so everything is incorporated.

Fan out the potato slices into a small baking dish. They should overlap each other. Season the potatoes with ½ teaspoon of salt and freshly cracked pepper. 
Pour the milk mixture over the potatoes. It will naturally fall into the little creases of the potatoes.
Top with gruyere and parmigiano cheeses. Sprinkle with the thyme leaves. Then top the baking dish tightly with foil paper.
Bake for 1 hour. Then remove foil paper and bake for another 20-30 minutes until the top is golden brown. 

Once you pull it out of the oven, let it sit for 10 minutes so the oil sitting on top can reabsorb into the potatoes. If there is a lot of oil on the sides, dab with a paper towel to absorb. 
Serve warm and enjoy!