This Tomatillo Sauce Recipe is a great place to turn when you are looking to shake things up a bit. They can be the answer to bringing a little something to the plate to make it feel fresh. This makes your usual chicken a little less boring, simple fish a little less simple and gives flare to your veggies. It's also the perfect addition to your taco night to serve with enchiladas or tacos. 
You may be wondering what are tomatillos? They sound like they are just little baby tomatoes, but you would be wrong. They are a fruit, native to Mexico, but have been brought over and grown here in the USA because they are less likely to go bad with disease. Apparently farmers like that.
Tomatillos have a slightly more acidic and less sweet than tomatoes. Prepping a tomatillo looks intimidating but it is pretty straight forward. The husks can be easily removed with your hands and thrown away. You will immediately notice they are a little sticky, but you can just run that under warm water and it will come right off. If you want to use them for their acidity, keep them raw. But if you are looking for them to take on a deeper more savory flavor, than you want to cook them.
Roasting a tomatillo brings out on so much flavor. So we start this recipe, with roasting 10 tomatillos in the oven before mixing them in with our other ingredients. You can serve this sauce warm or cold. It is so delicious you may feel the need to put it on everything. Go ahead. We do.  Try them on your next Roast Chicken or even to punch up your veggies like we did here with our Cauliflower Steak Recipe.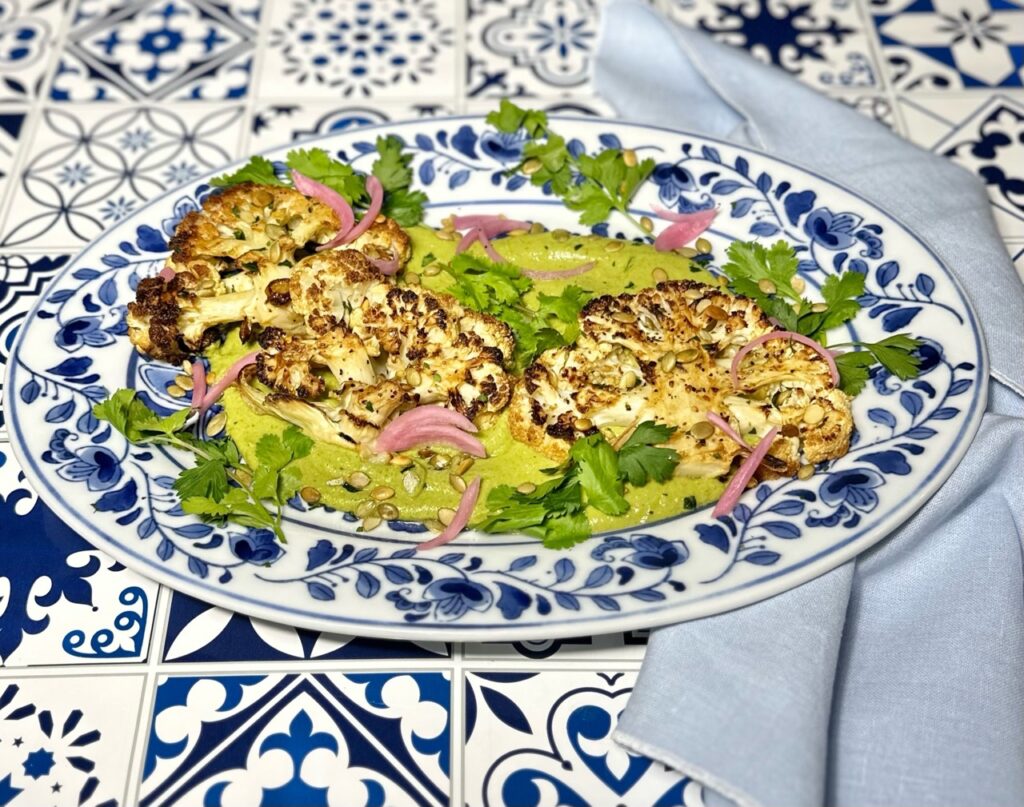 Tomatillo Sauce
Course: Sauce
Cuisine: Mexican American
Difficulty: Easy
Ingredients
10 tomatillos, husked and rinsed


2 white onions


4 cloves of garlic


¼ cup of olive oil


1 cup of pumpkin seeds


2 bunches of cilantro (which will be about 1 to 1 ½ cups if its pressed down in a measuring cup)


Salt and freshly cracked pepper
Directions
Preheat the oven to 425 degrees.
Line a baking sheet with parchment paper. Place the tomatillos, onions and garlic in the pan. Toss with oil, salt and pepper. Add ½ cup of water to the sheet pan. 
Bake for 30 minutes. The edges of the veggies should be golden brown.
Allow to cool for a few minutes, put everything on the sheet pan in a blender, add the pumpkin seeds and cilantro and a little more salt and pepper to taste. 
Blend until completely smooth. You may need a little more water so everything is totally incorporated. 
Serve warm or cold.