Tres Leches Layer Fruit Cake Recipe will take you step by step in making this beautiful classic Cuban dessert.
This cake is very similar to the process we use in our Tres Leches Cake Recipe, but there's a twist. In this recipe we are taking that same tres leches magic and assembling it as a cake. Then we are going to be filling it with fruit and decorating it with edible flowers. It's simple enough that you can do it, and it's beautiful enough for a special occasion.
The Tres Leches Layer Fruit Cake can be made with really any fruit that you like. We decided to fill ours with strawberries and cherries, but feel free to use what's in season or any fruit you like. Other fruits that we love for this recipe are mangoes and other mixed berries like blueberries or raspberries.
When baking the key is to be patient with yourself and the process. There is no exact science or way to tell you when things will be ready. We are just doing our best estimation. A good rule of thumb is to keep dry ingredients with dry, and wet with wet until it is time for them to come together.
While following the recipe (especially if you are new to baking) try to pay attention to the size of the bowl we are suggesting. It will keep you from having to use more bowls than necessary and will keep clean up to a minimum.
Try our Other Delicious Cuban Desserts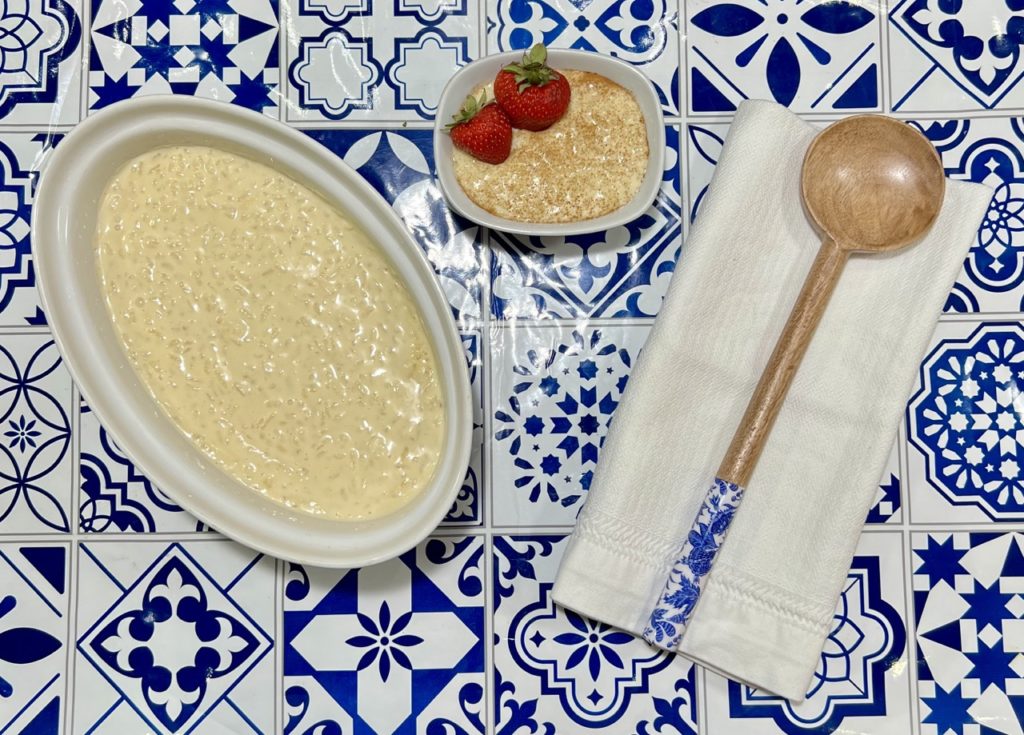 Tres Leches Fruit Cake
Course: Dessert
Cuisine: Cuban American
Difficulty: Moderate
Ingredients for the cake
2 cups of cake flour


6 large eggs, separated

1 cup of sugar (divided)


½ cup of milk

2 tablespoons vanilla

¼ teaspoon of fine salt

2 tablespoons baking powder

Ingredients for the Soaking Liquid

1 cup of milk

½ cup of heavy cream

1 can of evaporated milk

1 can of sweet condensed milk

1 tablespoon of vanilla

¼ teaspoon of salt

Ingredients for Filling and Decorating

3 cups of heavy cream


½ cup of sugar

2 tablespoons of vanilla

Pinch of salt

Fresh fruit (2 cups of sliced fruit and more for decorating)
Cake Directions
Preheat the oven to 350 degrees. Grease two 8-inch round cake pans.
In a small bowl, whisk the flour, baking powder and salt. Set aside.
In a medium bowl, beat the egg whites with a whisk attachment or a handheld mixer. Beat for a few minutes (this will take a few minutes be patient) until foamy and delicate peaks start to form. Slowly add ¼ cup of sugar and continue to beat on high for another 2-4 minutes. Beat until the egg whites form stiff peaks (meaning you remove mixer from the egg white it forms a peak that sticks to the mixer) and are glossy. Set aside
In a large bowl, add the milk, egg yolks, 3/4 cups of sugar. Beat for about 5 minutes on high with a handheld mixer until the mixture becomes thick and is a pale yellow color.
Sift flour mixture over the egg yolk mixture and gently mix it together. Add milk slowly. Pour and mix into the mixture until all incorporated.
Once everything is completely incorporated add the egg white mixture in thirds. It is important to do this in thirds, because if you do it all at once the cake will not be as light and fluffy. You want to fold, or mix, in very gently. The idea is so the egg whites don't deflate and stay airy.
Bake for 18-20 minutes until a toothpick comes out clean and the cake is golden brown.

Remove the cakes from the oven and let cool on a rack until cool to the touch. Then invert onto a wire rack and allow them to cool completely.

Soaking Liquid
While the cakes bake and cool, make the soaking liquid by adding the ingredients to a bowl and whisk together until completely incorporated. Set aside.

Whip the heavy cream with a handheld mixer for 2 minutes. As it starts to froth add a pinch of salt and sugar slowly. Add the vanilla. Whip for another 3-5 minutes until it becomes a thick whipped cream. Don't over mix. It should be the consistency of cool whip. Get ready to assemble.
DIRECTIONS TO ASSEMBLE
Find a pedestal or serving plate for your cake.

Place the cooled cakes on a cutting board and be sure the cakes are even. Cut the tops with a serrated knife to make them even if they aren't. (The scraps are for snacking!)

Poke the cakes all over with a fork. The more you poke, the more liquid will be able to penetrate the sponge cake.

Place the first layer on the serving plate. Pour over about 1/2 of the soaking liquid. Slather that layer with some whipped cream. Add the sliced berries and top the berries with some more cream.

Top with the other cake layer. Pour the remaining soaking liquid. Decorate with whipped cream. You want to put plenty on the top but keep the sides looking like a naked cake.

Refrigerate for at least 8 hours or over night. Top with more fruit and edible flowers when you are ready to serve.