This Cuban Arroz con Leche Recipe is going to walk you through step by step to achieving the perfect Cuban rice pudding. We cracked the code, and can guarantee that this recipe is your ticket to making the richest creamiest most delicious arroz con leche out there.
Arroz Con Leche is the low cuban dessert super star. Arroz Con Leche does not get the credit it deserves. It is understandable. After all the Cuban dessert competition is fierce. However no matter the Flan, Natilla or Tres Leches that are on the menu- if there is a good Arroz Con Leche available it should absolutely be what you grab.
As with most Cuban food, Arroz Con Leche stems from a place of necessity. There is leftover rice, what can you do with it. Let's take a moment of silence for the person that thought to cover it with Leche Condensada. The ancestors did the rest of the work, experimenting and adding little things to arrive at Cuban dessert nirvana.
There are a lot of Arroz Con Leche Recipes out there. I mean if you head to the Food Network and search you will find a number of recipes. But they are not all created equal. In fact, we did extensive research on the subject. We have made Arroz Con Leche at least 10 different ways, you know for research. While this research was dangerous for our jeans buttoning up, we were successful in our mission.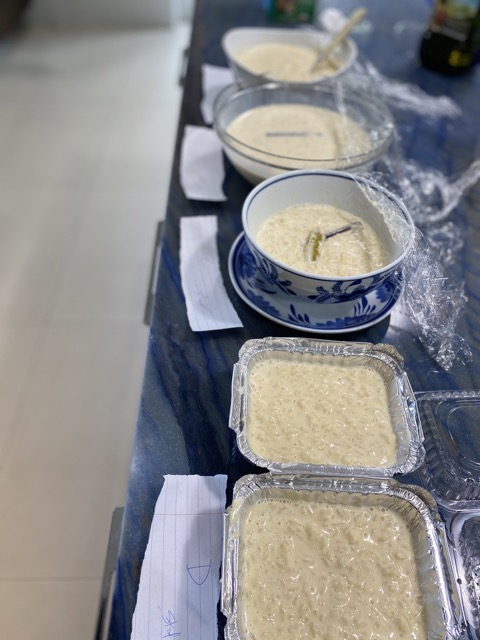 What you will find below is the recipe for the most perfect, most delicious, absolute fire Arroz Con Leche you may ever have. Your biggest problem will be keeping yourself from eating it.
A Few Tips Before you Get Started
Wash the rice. It is important to wash the rice out of the rice to eliminate the starch.
BIG TIP!! If you have time let the rice sit in the cooking liquid for 15-20 minutes before you start to cook it. This seems silly, but it will help the rice soften and open up and we pretty much guarantee that it will make your rice so soft at the end.
When you are cooking the rice on a soft boil, it will seem done around 15 minutes but boil it a little longer just to get it nice and soft before beginning to add more milk.
Don't forget to shake your evaporated milk before adding it! Seems silly but it happens!
After you add your evaporated milk, watch your heat. You want it to be hot enough to cook, but you don't want the bottom to burn or stick.
Once you add the Condensed Milk (one of life's greatest pleasures) you want to be sure you to stir constantly. It's only 5 minutes, and stirring it will keep the sugars and dairy from going and sticking to the bottom.
After this step, cover the Arroz Con Leche and let is sit together for 20 minutes. This is very important because it is what will allow the rice to bloom and absorb all the deliciousness.
Your final step will be adding a little more milk to the mixture. How much will depend on what your Arroz Con Leche looks like at this point. If it is very very soupy, only add about 1/2 cup. If it looks like it could use more liquid add up to the full cup. Remember you need a lot of liquid because the rice will continue to absorb as it settles in the fridge.
At this point, dip a strawberry into the warm mixture, because it is heaven! Then let the rest settle in the fridge for at least 3 hours before serving.
Arroz Con Leche Recipe
Course: Dessert
Cuisine: Cuban
Difficulty: Easy
Ingredients
12 oz Valencia rice, rinsed and drained


3 1/2 cups whole milk (divided)

4 cups of water


2 cans of evaporated milk (divided)


2 cans of condensed milk


2 cinnamon sticks


1 vanilla bean, cut vertically and scrape out the seeds and empty out into the milk


2 tablespoons of vanilla extract


1-inch piece of lemon or lime peel


1/4 teaspoon of salt


Ground cinnamon for garnish
Directions
In a sauce pot add 2 1/2 cups of whole milk, water, cinnamon sticks, lemon peel, sliced vanilla bean stick, salt and the rice. Bring up to a boil, then lower heat to simmer.

Cook the rice at a constant soft boil for 18-20 minutes stirring occasionally. It should be al dente by 15 minutes, but then continue to cook for another couple of minutes. 

Raise heat to medium. Add only the 2 cans of evaporated milk and continue cooking for 10 minutes, stirring occasionally. Lower the heat if you feel it is too hot or sticking to the bottom. (By this point the rice should be fully cooked through)

Add the two cans of condensed milk and cook together on medium low for 5 minutes. Be sure to keep stirring. The amount of sugar and dairy in here will want to stick to the bottom, just keep stirring! If you feel the bottom slightly sticking don't touch it. Just stir the top surface. 

Let it sit in the pot with the top covered for 20 minutes. *DON'T skip this step. This is what ensures the rice to fully cook and bloom open!

Take out the cinnamon sticks, vanilla bean stick, and lemon peel.

Add in the vanilla extract, 1/2 cup to 1 cup of whole milk. If you find it's too soupy just add ½ cup but remember it may look too soupy but it will be absorbed as it sits.

Serve in small ramekins or a large one with ground cinnamon on top. Leave in fridge for a few hours or overnight so it steps up.