It can't get much simpler than Chorizitos en Cidra. Bite-size pieces of chorizo are slow cooked in cider making them the perfect appetizer to serve anytime. The only problem you will have is how addictive they are.
My mom has been making these for years with mini cantimpalos, but you can make them with thin chistorras or just cut large chorizo in 1-inch pieces. Just make sure it's a sausage that has been dried and cured, not fresh/raw. 
Once you have you preferred chorizo, all you need is a bottle of Sparkling Cider, a little minced garlic and a bay leaf and you are good to go.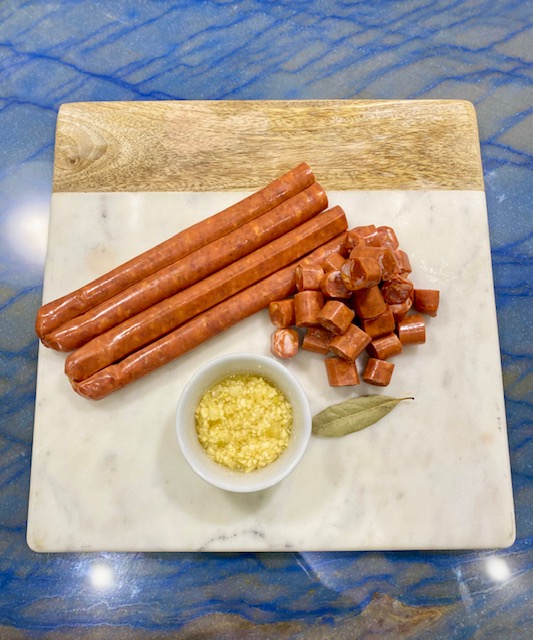 Chorizitos en Cidra are easy enough to prepare for a snack and delicious enough to serve at a party you are hosting. Everyone is always impressed with how something so simple can be so good. But the truth is the most delicious things always are so simple.
Chorizitos En Sidra
Course: Appetizers
Cuisine: Cuban American
Difficulty: Easy
Ingredients
1 pound of cantimpalo chorizo (these chorizos are long, thin and dry cured), cut them into 1-inch bites 

1 bottle of Sparkling Cider (25 ounces) 

6 garlic cloves, finely minced 

1 bay leaf 

1 tablespoon of olive oil
Directions
Spread the chorizos on the side of the pan. Place the garlic in the middle with the olive oil and a bay leaf. 
Sauté the garlic on medium heat for 3 minutes until it starts to turn golden. 
Raise the heat to high and add a cup of the cider. Stir so everything is incorporated and you deglaze the bottom of the pan. 
Lower the heat to medium low and add a cup of cider about every 10 minutes. As the cider slowly reduces it will form a thick syrup. It will about 30 minutes to finish. 

Serve with crusty bread or crackers 
Notes
If you have a terra-cotta baking dish you can use it directly on the heat. If you don't, just use a  wide pot or pan.