This Granizado de Mango Recipe is easy to follow and will keep you cool and fresh all summer. The perfect way to use your mangos this season.
Granizado is a semi-frozen dessert made from fruit that is pureed, slightly sweetened, then scraped off to resemble shaved ice. It screams summer-time because of its freshness and simplicity. You can make a granizado from almost any puree, but mango granizado is one of our favorites. The mangos are naturally sweet so you don't need a lot to make this treat taste delicious. Using different types of mangos for that perfect balance between ripe and tart is ideal.
Unlike shaved ice or snow cones, which are topped with flavored syrup, a granizado is made by freezing fresh fruit puree and scraping often to get a similar texture, but the flavor is embedded in the ice.
Many Central and Latin American countries call this dessert a "raspado or raspadito" which literally translates "to scrape." Because you are scraping off the ice crystals as you form the finished product.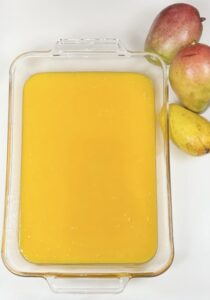 A few tips for the perfect Granizado de Mango:
The conisistency of the puree is very important. You want it to be like a thin smoothie. Not too thick. Not too thin.
It's impossible to know the ripeness of a fruit without tasting it. Taste the puree once it is blended. If you need more sugar, add it.
You can keep it in the freezer for up to a month. Just keep in mind that before serving you will always need to scrape again to keep the ice crystals fluffy.
How to Serve It?
We love serving our granizado with some Italian inspiration. The Italians enjoy a similar dessert called "granita con panna." Their version of granizado (whether it be fruit or coffee granita) is layered with sweetened whipped cream. It's the perfect balance of light and creamy in one bite. 
Granizado de Mango
Course: Dessert
Cuisine: Cuban
Difficulty: Easy
Ingredients
3 ripe mangos 

1 to 2 tablespoons of fine sugar 

Juice of ½ a lime
Directions
Wash the mangos and prep them by slicing them along the seed. Scoop out the flesh from both sides and any flesh surrounding the seed. Discard the seed and skin.  
Add the mango, lime juice and 1 tablespoon of sugar and 1 cup of water to a blender. Be sure it is completely smooth. Taste it. If you feel like its not sweet enough add another tablespoon of sugar then blend again. 
Strain the mixture over a rectangular pyrex or sheet pan. You want to get rid of all the fibers in the mango.
Check the mixture every 30 to 40 minutes and scrape it all over. You want to lift all the ice crystals so it forms a light snowy mixture. It will take about 2 ½ – 3 hours.
Serve with whipped cream and some fresh fruit.