Guava Marmalade Recipe (Mermelade de Guayaba) will take you step by step through how to peel, boil, and blend your way into a delicious guava jam. An all time favorite Cuban ingredient, and you can make it right at home.
Let's break it down. What is Guava Marmalade (Mermelada de Guayaba)?
It is a luscious jam made from only a handful of ingredients. The process involves cooking down fresh guavas with sugar and a touch of lime. In addition to being delicious, it is all natural with minimal ingredients.
Guavas are not very commonly known. However there is abundance of them throughout the Caribbean. This gritty and slightly sweet tropical fruit is a diamond in the rough. The guavas dark green skin protects the beautiful flesh that is pink or white. 
In this recipe we are calling for the pink ones to make the marmalade because of their unique color. The more you cook down the marmalade the darker and thicker it will become. Unlike other jams and jellies that need a thickener to give it body, guava is made of pectin, which is a natural thickener. Again this means that this jam
Knowing how to make mermelada de guayaba or mango is a right of passage for Cubans. The fruit is so abundant we are always trying to find ways to incorporate it in recipes. Think about all the guava items you find at a Cuban bakery such as the pastelitos and empanadas.
Tips For Making Our Guava Marmalade Recipe:
Although this is a sweet dish, think of this as cooking. We will be tasting as we go. The measurements for the sugar, water and acid will vary based on the sweetness of the guava you have on hand. This means you need to add sugar and lime as needed. 
We suggest peeling your guavas with a peeler rather than using a knife. The peeler will help you maintain more of the flesh which will leave more of that luscious pink color that we want to see in the marmalade.
Nothing will be wasted! We know it may seem wasteful to remove all the flesh with the seeds, but not to worry. Like all good Cuban recipes, nothing will go to waste. When you remove the seeds, keep them in a bowl. This seeded pulp can be blended with water, and sugar to taste, then strained to make a delicious guava nectar for drinks or a delicious natural juice. Yum!
It will keep in the fridge for 1 week. You can freeze it for up to 3 weeks. Just bring to room temperature or warm in a stove top. 
What Can You Do with Our Guava Marmalade Recipe?
Glad you asked! There is so much you can do with a guava marmalade!
You can top our flan with this recipe or serve it alongside our Panetela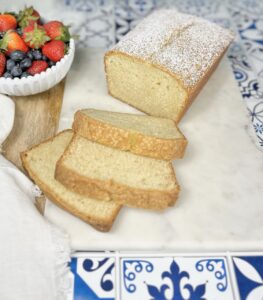 It can be used as the filling to our Rum Cake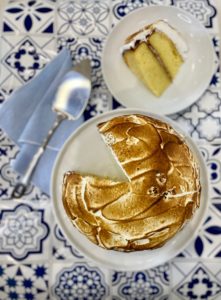 The marmalade can be used as the guava filling in our very popular Guava Coconut Cookies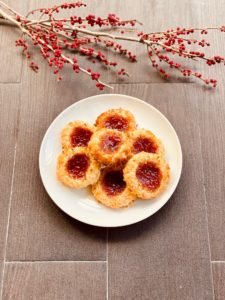 But nothing makes us feel like a kid again than serving this marmalade with Cuban crackers and cream cheese. It is the ultimate "merienda Cubana." 
Guava Marmalade Recipe (Mermelade de Guayaba)
Course: Dessert
Cuisine: Cuban
Difficulty: Easy
Ingredients
6-8 pink guavas, peeled and trimmed of the stem edges on both sides

Juice of 1 lime

¾ to 1 cup of sugar 

½ to ¾ cup of the cooking liquid

A pinch of salt
Directions
First tackle the guavas. Trim the top and bottom of the guavas with a knife and discard those pieces. 
Peel them with a vegetable peeler. Then split them in half and scoop out the middle flesh that is loaded with seeds. Place that in a bowl and reserve to make guava nectar.  
You are left with clean and hallowed out guava shells, which are known as "cascos de guayaba."
Add the shells to a ceramic pot and cover with water. The water should cover the guavas by about 2 inches. 
Bring the water to a boil. Once it boils, lower the heat to medium and boil for 30-45 minutes. Until the guavas have completely softened and are starting to breakdown. 
Transfer the guava shells and ½ cup of the cooking liquid to a food processor. Blend on high until it is completely smooth. If you need it to be smoother, add more of the cooking liquid one tablespoon at a time. You want it to be a little runny because we will be cooking it down. 
Place a strainer over a clean pot and strain the guava puree into the pot. 
Add ¾ cup of sugar, the juice of 1 lime and a pinch of salt to the pot. Turn heat to medium high and start to cook down the marmalade. If its boiling too much lower the heat. 
It will take about 10-15 minutes to thicken. Taste to see if it needs more sugar or lime. If you add more sugar give it another 5 minutes of cooking time so it comes together. 
Let it cool and enjoy!