This Pinchos de Mar y Tierra will show you how to make the tastiest shrimp and steak skewers. The best part is that they are easy to do.
Pinchos de Mar y Tierra, or Steak & Shrimp Skewers are such a great and easy recipe. Nothing says special occasion like surf and turf. The combination of juicy shrimp and tender beef sandwiched between veggies make the perfect meal.
Why do we love this recipe? For a few reasons. First, this is something fun you can do as a group or with kids. Everyone can load their skewer with whatever combination they like. Second it can be done with as many or as little as ingredients as you like. So no need to stress if you are missing something, because it can actually just be anything you like. Third it can be done on a hot griddle on top of the stove or outside on the BBQ. This makes it quick and easy to do and quick and easy to clean.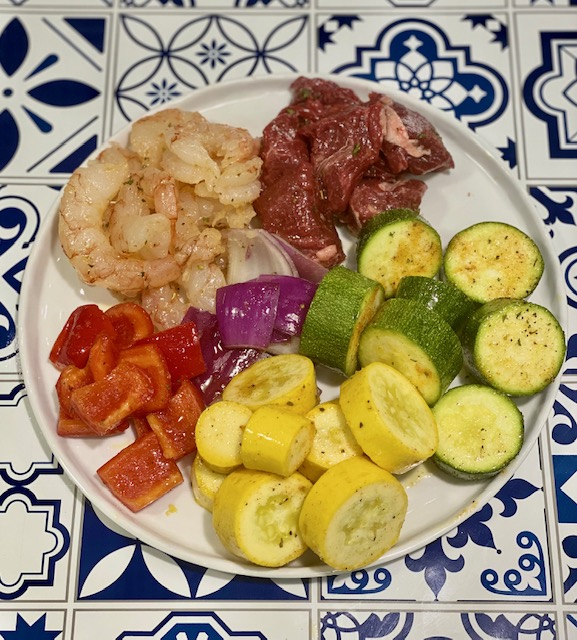 So grab your skewers and get ready to make the easiest, yet fancy recipe we can think of for this Valentine's Day or just because. Goes perfectly with our Green Herb Dipping Sauce.
Steak and Shrimp Pinchos
Course: Entree
Cuisine: Cuban American
Difficulty: Easy
Ingredients
6 oz of filete mignon cut in 1 ½ -inch cubes


8 large shrimp, peeled and deveined

½ an red onion

1 zucchini cut in 1-inch rounds

1 yellow squash cut in 1-inch rounds

1 red bell pepper

¼ cup of extra virgin olive oil

1 ½ teaspoons of Abuela's sazon

1 ½ teaspoons of salt and freshly cracked pepper
Directions
Place all the ingredients in a bowl and drizzle with the oil, then sprinkle with sazon and salt and pepper. Set aside.
In each wooden skewer, add one of each of the ingredients making sure to give everything space and that there are two flat surfaces.
Heat a griddle or grill to medium/high heat. Place the skewers on the hot grill and cook on each side for 5-7 minutes. Try not to move them too many times so they sear well on each side.
Serve with our delicoius Green Herb Dipping Sauce or Chimichurri or salsa verde