This Quick Cuban Congri Recipe is so easy you can throw it together on a weeknight in under 30 minutes.
Congri is a stable in the Cuban kitchen. It's the perfect marriage of rice and beans. It's also known as Moros y Cristianos and depending on the area in Cuba this dish was done with black beans or small red beans.
Typically Congri, starts with rendering small pieces of chicharron (pork belly) until crispy. A sofrito base and rice cook in the liquid of dried beans that have cooked until tender. It's delicious and the perfect two-for-one side dish. It's no surprise this is the side dish to accompany the lechon on Noche Buena or any Christmas celebration.
But there is a time and place for all of that time and effort. Sometimes you want/need Congri in a hurry. So we are here with the short cut version of one of our favorite Cuban staples, Congri.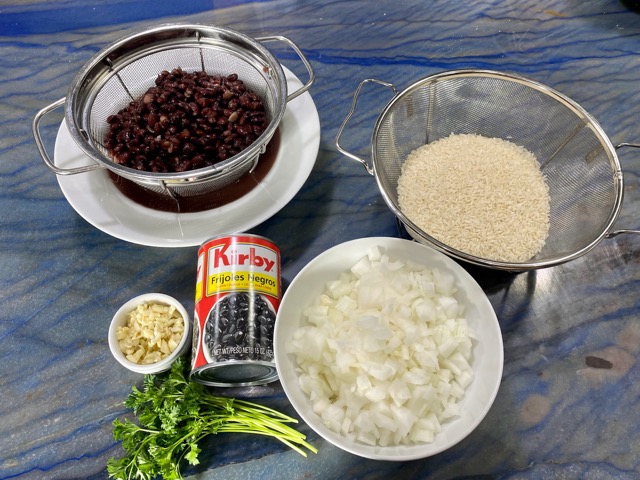 In this recipe we are using canned beans. We give them a jolt of flavor from onions and garlic and then incorporated into the rice. It's a simple favorite in the weeknight and weekend rotation. If you want something on the healthier side, our Cauliflower Congri may become your favorite side dish.
Quick recipes don't mean tasteless. It's as tasty as the original with half the work.
Quick Weeknight Cuban Congri Recipe
Course: Sides
Cuisine: Cuban
Difficulty: Easy
Ingredients
3, 15-ounce cans of black beans (I like Kirby criollo seasoned beans), drained and reserve all the drained liquid in a bowl

2 yellow onions, finely chopped

5 garlic cloves

2 cups of rice, rinsed and drained

4 bay leaves

1/4 cup of extra Virgin olive oil

Salt and pepper to taste

Garnish: parsley and crispy crumbled bacon
Directions
Once you've drained the liquid from the beans pour that liquid into a measuring cup. You need 3 1/2 cups of liquid. If the bean liquid isn't enough, add enough water to get to 1 ¾ cup. 
In a medium pot, add onions, bay leaves, oil and salt and pepper. Saute for about 5 minutes or until soft and cooked. Then add the garlic, and cook it for 2-3 mninutes.

Raise the heat to high. Add the liquid from the beans and another pinch of salt.
Once it is boiling add the rinsed rice. Stir to make sure there is enough liquid. 
Cover with the top, reduce the heat to low and cook for 20 minutes. 
. 
If you want to garnish with bacon you can cook it now, then cut and crumble it. 

Once the rice is cooked, add the beans into the pot and incorporate them into the rice and fluff with a fork. (Be sure to never use a spoon or it will clump up) 

Cover again and let it sit for 10-15 minutes.  Serve the congri hot and garnish with the parsley and bacon