This Sheet Pan: Chipotle Lime Salmon is an easy to follow recipe that will be perfect for your next Taco Tuesday,
We are huge Sheet Pan Meal fans around here. We imagine that most people out there love a good Sheet Pan Recipe. They check every single box. Sheet Pan Meals are easy to do. Sheet Pan Meals are easy to clean. Most importantly, Sheet Pan Meals are pretty delicious.
Our Sheet Pan: Chipotle Lime Salmon Recipe is no exception. This Chipotle Lime Salmon recipe packs a punch of flavor. It's a great introduction into your weekly rotation. It is a great twist on Salmon, which we know is good for us in many ways. It's quick and easy prep, and quick and easy pick up. A thing of beauty.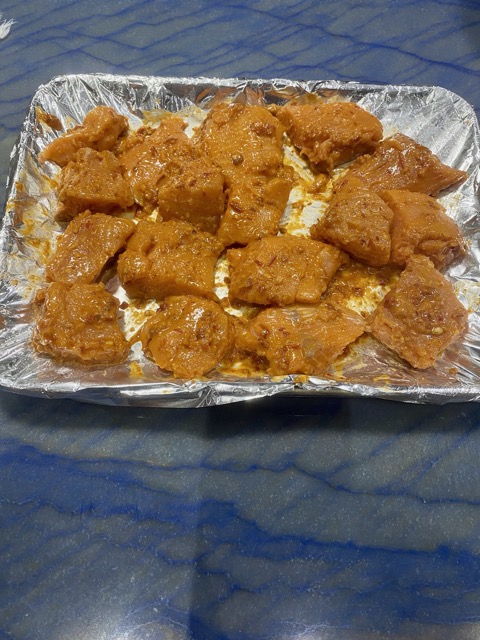 Chipotles are smoked jalapenos packed in a flavorful tomato based sauce. They are a great way to get a lot of flavor into a marinade without using a ton of different ingredients. Don't be intimidated by the chipotle pepper's spice in this dish. The Chipotle is going to be balanced out and tamed by the lime and honey in the marinade.
Our Tips for Making this Amazingly Delicious Sheet Pan: Chipotle Lime Salmon Recipe
If you are in a bigger rush and want to cook it quicker, cut the salmon is cut into chunks, but while keeping the filet whole, marinate in the same way and once it's cooked, break off pieces of salmon for the tacos.
Adjust the heat to however you like to eat it, and remember if you go too heavy handed you can balance out the flavor by adding a little extra honey and lime. Go slow and taste it as you go.
Chipotle Quick Tip – no recipe out there ever uses a whole can of chipotle in adobo. Use what you need for the recipe and then pack the remainder in a Ziploc bag. It will keep frozen for a few months.
Chipotle Lime Salmon
Course: Entree
Cuisine: Cuban American
Difficulty: Easy
Ingredients
1 1/2 pounds of salmon, cut into 2-inch chunks (skin removed)


2 tablespoons of chipotle in adobo 

Juices of 2 limes

6 cloves of garlic 

2 tablespoons of honey

2 tablespoons of avocado oil

1 tablespoon of creole seasoning

1 ½ teaspoons of salt and freshly cracked pepper

Serve with: Abuela's Mango Salsa, corn or flour tortillas, cilantro, shaved radishes, limes, cotija, guacamole, sour cream
Directions
Bake at 375 degrees. Line a sheet pan with aluminum foil or parchment paper. Spread the salmon pieces onto the pan. 

In a food processor, blend together the chipotle, lime juice, honey, oil, garlic, seasoning and salt and pepper. It should be a paste like consistency.

Smother the chipotle mixture all over the salmon pieces. Roast in the oven for 8-10 minutes until it's just cooked through. You can broil it on high for 3 minutes if you want to char the top a little more. Be careful not to over cook. Since it's in small pieces it will cook quicker than a whole fillet. 

Transfer the salmon from sheet pan to plate and let everyone assemble their own taco with all your favorite condiments. My favorite combo for this salmon is radish, guacamole and mango salsa.