This Strawberry Cream Cheese Empanadas Recipe is a quick guide to making a creamy and fresh treat. Easy to come together and so delicious.
The Strawberry and Cream Cheese Empanadas are such a great easy dessert. What we love most about these Strawberry and Cream Cheese Empanadas is that they are a pick up and go dessert. This means you can just serve them and your kids, family or friends can just grab them and…. you get the idea. This is no mess no fuss serving.
The best part is the kids go crazy for them because it is just the right balance between sweet and savory.
This hand-held sweet treat can be fried in advance of your event. Then when you are ready to serve just pop them in the oven or air fryer. Take them out dust a little powdered sugar over them and you're ready to go.
We decided to go with strawberries and strawberry jam but if you have different fruit or jam on hand, use what you have or what you love. The cream cheese is a must if you want to keep the sweetness balanced.
Why Did We Fry Them and Not Bake?
We went with frying them, because baking something sweet like this can be a little tricky. The steam builds up and they end up leaking in the oven. We tried to bake it a few times, and each time one or two would stay in tact, while the rest exploded.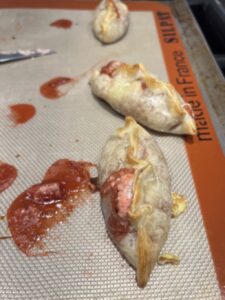 They still come out delicious, but if you are going for a clean presentation we would say stove top and oil is the way to go.
Here Are A Few More Delicious Fruity Dessert Ideas:
Strawberry Cream Cheese Empanadas
Course: Desserts
Cuisine: Cuban American
Difficulty: Easy
Ingredients
8-12 strawberries, cut in small pieces

3 tablespoons of strawberry jam

4 oz of cream cheese, softened at room temperature

12 empanada disks, thawed gently in the refrigerator

1 egg, beaten together with 1 tablespoon of water (for binding the sides of dough together)

Vegetable oil or peanut oil for frying

Pinch of salt

1 tablespoon of powdered sugar
Directions
In a bowl, combine the strawberries, jam and salt and stir together.
Lay the empanadas discs flat on a board and fill them with about 2 teaspoons of the strawberry mix and 1 teaspoon of cream cheese. Don't overfill or the filling will spill out while cooking.
Brush the egg wash on one side of the dough and fold over. Crimp with a fork or by folding over small sections of the dough together to completely seal the edges.
Heat oil over medium heat (350 degrees). Fry gently on each side until golden brown.
Dust with powdered sugar and serve hot (if you fry them ahead of time you can warm them in the oven or even better in the air fryer)