Yaya's Cuban Chicken Soup is the perfect recipe to help guide you in making the most delicious comforting chicken soup right at home.
Chicken Soup is something that every family has in their arsenal. It doesn't matter the culture. Chicken Soup transcends culture. Every family has their own unique spin and flavor, but the foundation is the same. It is usually made with a lot of love.
In Cristy's family if you even sneezed in her Abuela Yaya's presence, you could expect a full pot of chicken soup almost immediately.  Food was a huge part of how she showed her love. She fed every single member of her tribe weekly and without complaint.
Her chicken soup was actually the last thing she made for me before she passed. Even through her cancer treatment, she did what she could to comfort us. I remember showing up early that day. She was still making the soup, and she finally let me in on her favorite Tomato sauce that she swore was the secret to her soup. You should know, she was a dirty liar who was known for giving you a recipe that was always missing an ingredient or two. Maybe she just wanted us to keep coming back for the real thing. However, the next time I made the soup, shortly after she passed, I put in some of the sauce like she told me to and it was the best one I ever made.

It's been almost 10 years since she left us. This soup is my secret weapon to any and all colds and viruses. I now make it any time someone in my house or in my circle sneezes in my presence. Thanks to Yaya, I know how loved and taken care of it feels to get a warm pot of chicken soup when you aren't feeling your best.
Our Tips for Making Yaya's Cuban Chicken Soup
Yaya's Cuban Chicken Soup is a great thing to try to make, because it's a very forgiving recipe. The reason there are so many different recipes out there, is because no matter how you make it the end result is pretty delicious. So the first rule is stay loose and be easy on yourself.
The second rule when making Chicken Soup is to use the vegetables or chicken that you love or have on hand. This means that if you are missing malanga or don't like plantains in your soup- go on without them. If you're looking in your fridge and you don't have boneless chicken, throw in your bone in chicken.
The reason we like to use boneless, is because it is easier to shred and you don't have to worry about fishing out the bones. However, it is not a problem to have to fish out the bones, and the truth is bone in chicken always stays juicier. There are pros and cons to all, but neither of these things will make or break your soup.
Finally below you will find directions for making the soup in the Instant Pot as well as the good old fashioned way, stove top. Do you need an Instant Pot? We would always say that it comes in very handy. However to make this soup, you just need any pot.
Take it from our Abuelas and all the people who have been cooking long before we came along- cook with love and it will all be ok.
Try Our Other Delicious Soup Recipes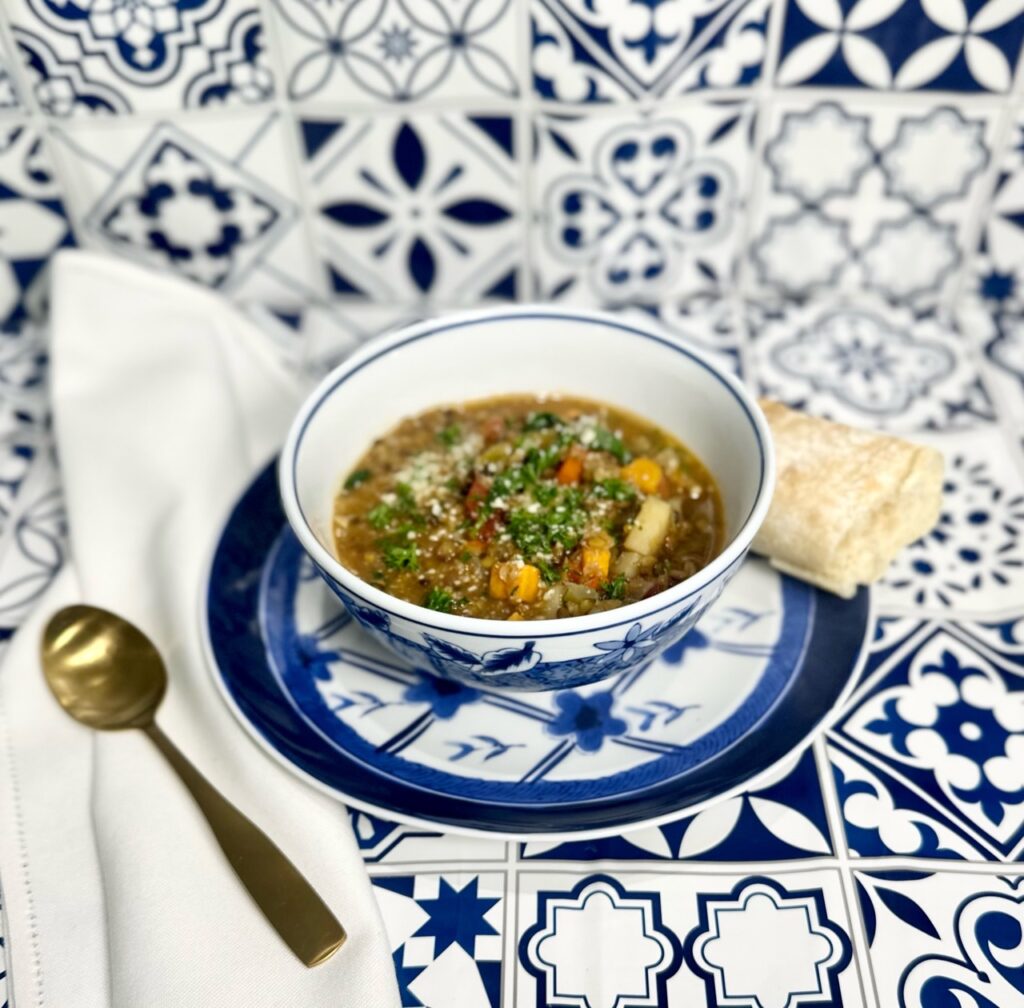 Yaya's Homemade Chicken Soup
Course: Soups
Ingredients
1 ½ lb skinless boneless chicken breast* or cutlets also work, as well as any chicken you have on hand

8 cups Chicken Broth

1/2 cup Tomato Sauce (I use Pomi Strained Tomatoes)

Salt and Pepper to taste


1 tablespoon Garlic Powder


1 tablespoon Onion Powder 


1 tablespoon of Abuela's sazon (or Goya)


1 tsp dry Dill


Noodles – I like thin noodles but it's your preference

2 Medium Potatoes


1 Malanga


3 medium Carrots


3 Celery stalks


1 yellow Onion
 

1/2 bag of Spinach


1 Plantain


4 Garlic cloves

Noodles – I like thin noodles but it's your preference
Instant pot Directions
Generously season the chicken with salt and pepper.  Pour in your chicken broth and add your chicken to the pot.  
Add all your cut up vegetables and spices (except dill and spinach which you will use at the end). Then pour in ¼ cup of tomato puree, and a drizzle of extra virgin olive oil.  Add more broth if you think it needs it but do not pass the Max line.

Close the top.  It's important to be sure the pressure release valve is in place on Seal.  Press the Soup/Broth Button. Let the magic happen.

Once the pot is done cooking the soup, release the pressure by switching the valve to release. BE CAREFUL DO NOT OPEN THE VALVE WHEN YOUR HAND IS OVER IT. Open the lid.  Throw in any egg noodles, the spinach or your green and a little dill.  Mix it all in and cover for 5-8 minutes. Enjoy.

STOVE TOP DIRECTIONS
Generously season the chicken with your olive oil salt and pepper. Turn your heat to medium high and gently place your chicken on the pan for just 2-3 minutes. We don't want to cook the chicken through. We just want to brown the bottom to get a little extra chicken flavor into the broth.
Once you flip the chicken to the other side, pour in 4 cups of broth and keep the heat on medium high to high. Add all your cut up vegetables (except spinach if using). Then add in the spices to taste (except dill).
Pour in 1/2  cup of tomato puree, and a little drizzle of extra virgin olive oil.  Mix it all together and more broth if your pot can hold more. Add up to 8 cups. Brigh to a boil. Let it boil strong for 8-10 minutes then cover and lower heat to medium-low. Let it cook mixing ever so often for 45 minutes to one hour.
After about 45 minutes to an hour, check on the veggies. If everything looks like it's nice and soft, give it a taste. Adjust for salt and pepper, then add in your spinach, noodles, and dill. Mix it all in, cover and let it sit for another 5-10 minutes.
Ready to serve.