This Lamb Chops with Mint Chimichurri are going to be your go to recipe for when you want to really impress at a dinner party.
When you want to really impress, Lamb Chops are your go-to move. There's something so special about Lamb Chops. They definitely bring a certain elevation to your usual dinner party. The best part about this delicious meat lollipop, is that they are so simple. In fact, the simpler the better with lamb.
Lamb chops don't need much. Just a little salt and freshly cracked pepper are enough to bring out their natural flavor. They are easy to make during the week because they are so quick and flavorful. On the weekends, you can take this same recipe to the outdoor grill and make it a party.

The thing you want to keep in mind with Lamb Chops is that you need to use it as soon as you buy it from the store. The longer it sits it will develop that intense gammy flavor. You don't want that.
Lamb chops are very fatty, so in this recipe we use just enough oil to get them going, but they don't need much. As they are seared on each side, they will cook in their own fat, keeping them succulent and tender. These are served with a mint chimichurri which is very bright and fresh and gives it just the right punch.
The Mint Chimichurri is something you can use for many different things. Perfect to go along side a Churrasco a la Parrilla, or even on the side of our Pinchos de mar y Tierra. You just grab your ingredients, and blend, and then you have this perfect, fresh and bright sauce to go alongside your perfectly cooked Lamb Chops.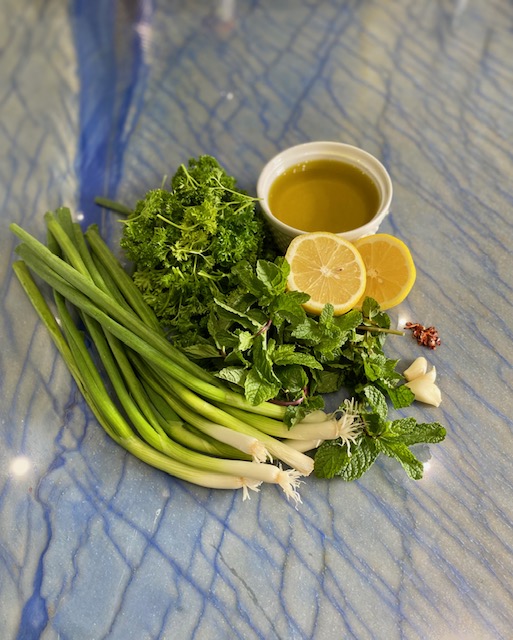 Lamb Chops with Mint Chimichurri
Course: Entree
Cuisine: Cuban American
Difficulty: Easy
lamb chop Ingredients
16 single cut lamb chops


½ teaspoon of Abuela's seasoning or seasoning of choice

Salt and Freshly cracked pepper to taste

Olive Oil Spray

Mint Chimichurri

1/2 cup of fresh mint, finely chopped


1 cup of fresh parsley, finely chopped


¼ cup of scallions, finely sliced


2 cups of extra virgin olive oil

juice of 1 lemon

pinch of red chilli flakes

1 clove of garlic, finely minced

Salt and Freshly cracked pepper to taste
Directions
First we make the Mint Chimichurri. Start by putting everything in a bowl. Mix. Taste and adjust
seasoning as needed. You need to let it sit at room temperature for at least 20 minutes so the flavors come together.

Now it's time for the Lamb Chops. Heat a non-stick ceramic saute pan to medium heat.

Dry the lamb chops well with a paper towel. Spray lightly with olive oil spray and season with salt and pepper.

Add the lamb chops to the hot pan in batches. We do not want to overcrowd your pan. The reason is if the pan gets too cold from overcrowding the lamb won't form a golden crust.

As the lamb cooks on the hot pan, it releases its oil, move the lamb around the pan so it is coated in that delicious oil. It will start to sizzle and begin to form a golden brown exterior. *If after 3
minutes, you don't see the lamb chops getting color, raise your heat to medium high or high. Every stove is different. Don't move them at all once you flip them so they form a crust.

Sear the lamb chops on each side about 4-5 minutes per side for a pink medium center.

Serve hot with the mint chimichurri.