This Ajo Blanco White Gazpacho Recipe is an easy to follow step by step to making a chilled, delicious, light, and traditional gazpacho right at home.
Most people are familiar with traditional gazpacho, which is a blend of tomatoes, raw veggies, vinegar and stale bread. Although delicious, white gazpacho is a lot more delicate.
White gazpacho, known as Ajo Blanco in Spain, is a cold and refreshing soup. The celebration of simplicity and fresh ingredients gives a unique and unmistakable flavor. It's the almonds and cucumbers that really give the soup body. The way they blend together with the sherry vinegar, grapes and high quality olive oil is smooth and perfectly balanced. When you plate it, it's so impressive, but it's very easy to make.
Our Tips for Making a Delicious Ajo Blanco- White Gazpacho Recipe
We prepare our white gazpacho without the bread to keep it lighter and gluten free. You can strain the blended mixture, but the water and yogurt will help you achieve a very creamy consistency.
Time is gazpachos most important ingredient. As the prepared gazpacho sits in the fridge, the flavors will intensify. If it separates you can whisk it back together or blend again. Serve it within 48 hours.
The first time I tried "Ajo Blanco" was as a young girl in Marbella, Spain on a hot summer day. With one sip I fell in love. I've been making it ever since. Simply decorated with herbs like mint and chives or dotted with sliced grapes gives the soup a very elegant feel. No one would guess it's so simple to make and that just letting the blended ingredients sit in the fridge does most of the work.

Ani
I was hesitant to make this. Gazpacho was only something I had tried at a restaurant and I wasn't a crazy fan. But when we tried this recipe out, I immediately fell in love. It's like nothing I've ever had before. It was also so incredibly easy. Love it for a dinner party!

Cristy
What Should You Serve With It
We think it's the perfect appetizer at your next Summer Dinner Party. It's light fresh and really delicious.
It goes perfectly with: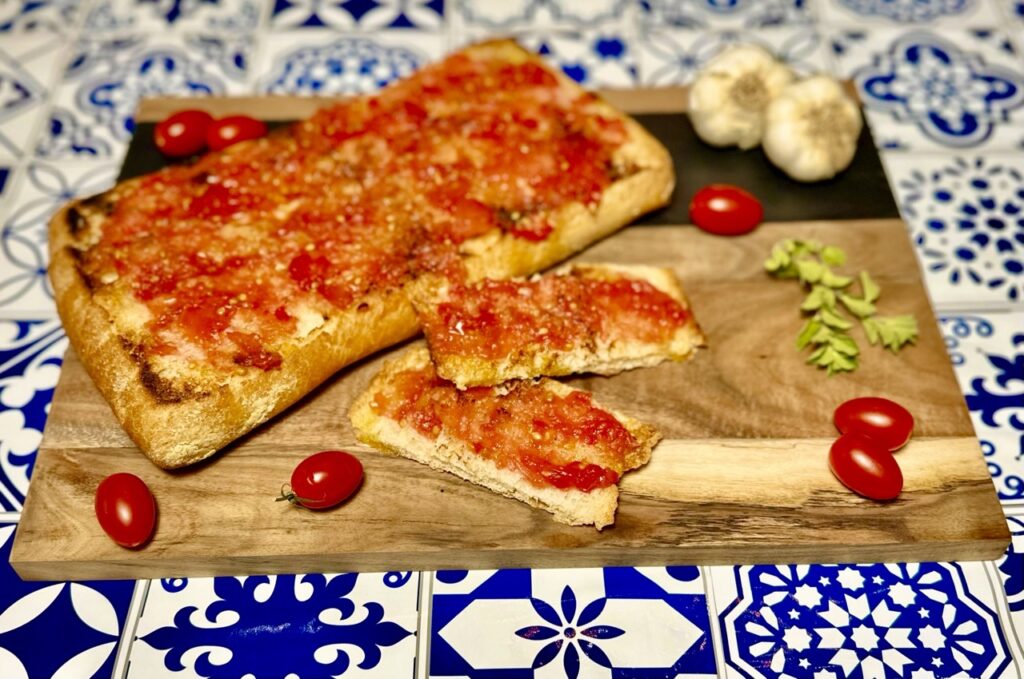 Nothing tastes like white gazpacho. We definitely mean that in a good way.
Ajo Blanco White Gazpacho Recipe
Course: Soups, Appetizers
Cuisine: Spanish
Difficulty: Easy
Ingredients
1 cup of unsalted marcona almonds or traditional blanched almonds

½ shallot 

2 cloves of garlic 

2 cups of seedless cucumbers that have been peeled, seeded and diced

1 ½ cups seedless green grapes 

2 cups of water 

1 ½ tablespoons of sherry vinegar

1 cup plain yogurt

½ teaspoon of salt

3 tablespoons of great quality extra virgin olive oil 

Garnish: extra virgin olive oil, chives, mint, sliced grapes, flaky salt and freshly cracked pepper.
Directions
Add all the ingredients except for the garnishes and olive oil to a blender for 2 minutes. Stop the blender and push down the ingredients on the sides. 
Blend again for a few more seconds. If it's not completely smooth add another 2 tablespoons of water. Be sure everything is completely incorporated. It should be the consistency of a thin smoothie.  
Taste and adjust seasoning as needed. It may need more salt or more vinegar depending on your preference. 
While the motor is running on medium low, add the 3 tablespoons of olive oil. 
Pour into a container you can seal or into a pitcher and seal tightly with plastic wrap. 
Refrigerate for at least 6 hours or overnight. The longer it sits in the fridge the better it will taste. 
Serve cold in a bowl or a glass with some of the suggested garnishes.