This Arroz Chino Recipe will take you step by step through making a quick, easy and very delicious Cuban fried rice.
Arroz Oriental is the marriage of two beautiful cultures – Cuban and Chinese. It's filled with diced ham, bacon and the veggies all married together making something so comforting. There's an unexpected ingredient that helps take it to another level by giving the rice so much color and flavor. It's onion soup. The richness from the onion soup gives the rice an unmistakable taste.
Although it may seem out of place, fried rice fits right into our traditional Cuban dishes. Chinese influence has been prominent in Cuba for more than a century. Chinese men were brought to the island to work in the sugarcane and tobacco fields. Like so many immigrants, they brought their culture and delicious dishes along with their work ethic.
El Barrio Chino, Havana's Chinatown, was established by the early 1800's with restaurants, shops and Chinese businesses. Arroz Oriental, lo mein and miso soup all left their mark on Cuban cooking.
Arroz Frito is The Perfect Leftover Plan
This recipe is the quintessential leftover plan. If you happen to be making Sopa de Cebolla, you can use the leftover broth for this recipe. However, not many of us will have Sopa de Cebolla just laying around. We are not really sure how Abuela just casually threw that together so often.
It also seemed like Abuela was always boiling some sort of meat. Whether it was for Boliche or Vaca Frita, she always just seemed to have beef broth on hand. But don't worry if you don't have a casual onion soup laying around, homemade beef broth or you don't want to make it for this recipe. We highly encourage using store bought beef broth or even canned soup. Abuela loved a good short cut! Just go with the canned stuff and keep it simple.
You can definitely use leftover rice for this recipe as well. In fact we encourage it! All you would do is fry the bacon then add all the other ingredients as specified. Add the rice and 1 ½ cups of onion soup last just to warm through. You really just want to fortify the flavor of the rice as much as possible.
One of the simplest but one of the best things my grandmother, Alita Oliva made was arroz oriental. This is the last Sunday meal I remember her preparing at her house. She made a gigantic batch and served it with pork chops smothered in onions as she always did. I remember the whole family was together and devouring every bite. We ate on the fancy dining table and snaked crispy wontons on the blue shag rug. We were together eating something we all loved. It's a perfect memory.

Ani
It wasn't until years later my grandmother finally told me some of her cooking secrets and thankfully my aunt wrote down this recipe. We've added a few more veggies and kept it light on the soy sauce so everyone can add as much as they want after it is served.
What to serve with your Arroz Chino
The choices are endless. It makes the perfect side for almost any main course. Whether you are in a mood for pork chops or fish, keep this arroz chino up your sleeve.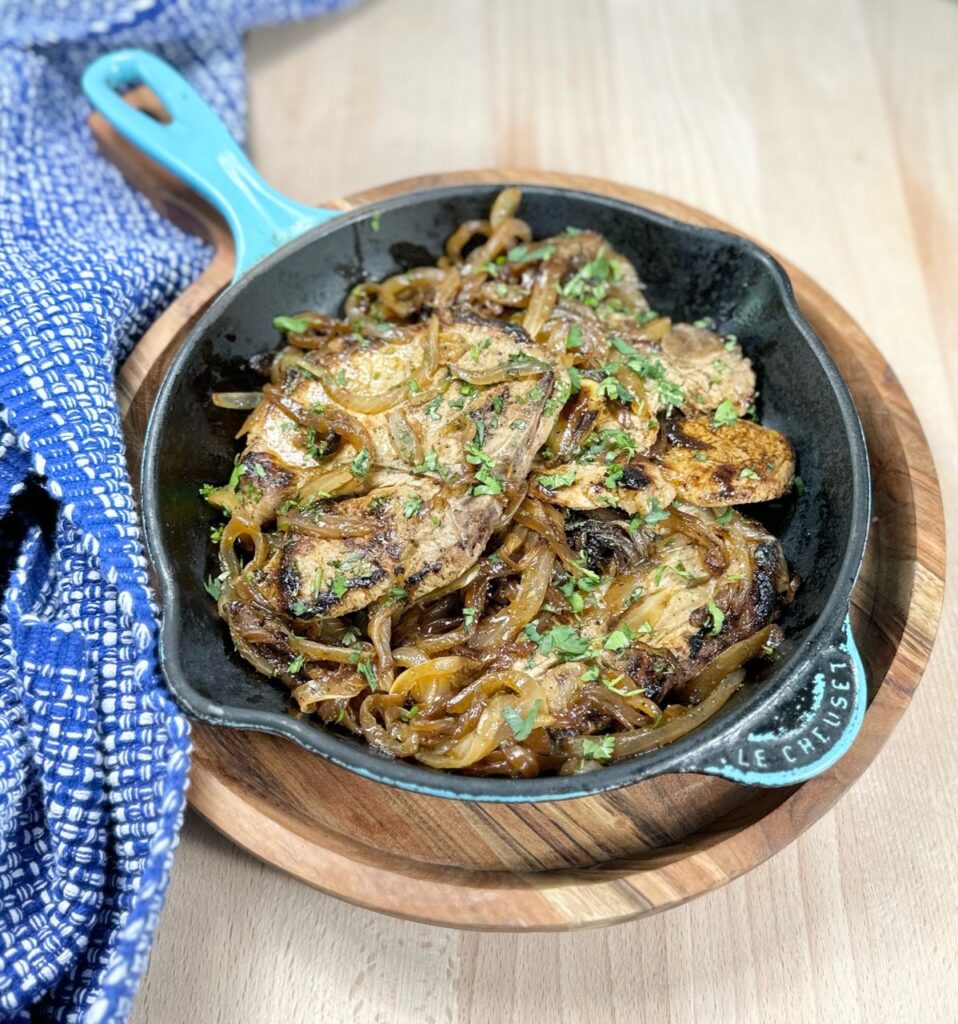 Arroz Chino
Course: Entree, Sides
Cuisine: Cuban, Chinese
Difficulty: Easy
Ingredients
8 oz of bacon, cut in small cubes

4 cup of premade onion soup

2 cups, parboiled rice  

1 cup diced ham, cut in 1/2-inch cubes

2 bell peppers (we like using cubanelle and red bell pepper)

2 carrots, cut into small dice

4 green onions, cut into 2-inch pieces

¾ cup peas

¾ cup green beans, cut into 2-inch pieces

3 eggs, beaten with sea salt

2 tablespoons of soy sauce 

Salt and freshly cracked pepper

Garnish fresh herbs such as cilantro and parsley and serve with more soy sauce
Directions
In a large and shallow pot add the bacon and cook on medium heat. Render the bacon for 5-7 minutes until it is completely crispy. 
Add the ham, peppers, carrots and sauté for two to three minutes. Add salt and freshly cracked pepper. 
Add the rice and mix into the vegetables. Add the soup and bring heat to high. As soon as the liquid is boiling put a top on the pot. Lower the heat and adjust the heat to low. 
Let the rice cook for 20 minutes. 
Once the rice has cooked, fluff with a fork and add the peas, green onions and green beans. 
Move the rice to the side and in that space add the beaten eggs. Scramble them for two minutes then incorporate them into the rice. 
Add 2 tablespoons of soy sauce to the rice. Garnish with herbs and serve with more soy sauce.