This Creamy Orzo Recipe is going to show you how easy it is to pull together this luxurious simple pasta dish everyone will love. Pasta, cream and parmigiano cheese – Any recipe with those ingredients has our hearts and our attention.
What is Orzo?
Orzo is a thin, oval shaped, almost rice-shaped pasta. It's so teeny tiny. In Italy, orzo is actually considered a pastina or "little pasta." Orzo can be found in soups in Italian cuisine, but you can use it in any number of pasta dishes, soups, grain bowls, and pasta salads (we love it in pasta salads).
In this recipe, the orzo, blooms in stock and is then made silky smooth with cream, mascarpone and parmigiano Reggiano. The result is one of the creamiest dishes you'll ever make and it all comes together with a handful of ingredients in about 30 minutes.
This recipe is reminiscent of one of the few pastas my grandmothers would make "pasta con leche." She used spaghetti, whole milk and whatever cheese was lying around or the parmesan from the green can. The idea is very similar but our recipe gets a gourmet upgrade with orzo, freshly grated parmigiano regiano and mascarpone instead of just milk.

Ani
Our Tips for Making Our Creamy Orzo Recipe
Find high quality ingredients! Since there are a minimal amount of ingredients it's important to use great quality.

The butter should be unsalted and not what you use to spread n toast.
Use freshly grated Italian parmigiano because it will melt easier into the pasta and not break apart. If you can't find Parmigiano, use the domestic version called Grana Padana.

If you are cooking this for several guests or just want to prep as much as possible before dinner, we recommend cooking the orzo with the broth and pausing there. The addition of the cream and cheese should be done just as you are going to eat.
This recipe is very simple and can be taken in many directions. You can saute onions and garlic before adding the orzo. Or add some spice with chili flakes. We like to add sweet peas or fresh spinach as it finishes cooking for that pop of color.
What to serve with our delicious Creamy Orzo?
This makes the perfect side for any weeknight meal, or for even a dinner party! Since it's such an easy recipe to put together, and simple enough to let the entree shine it's a great go to for hosting.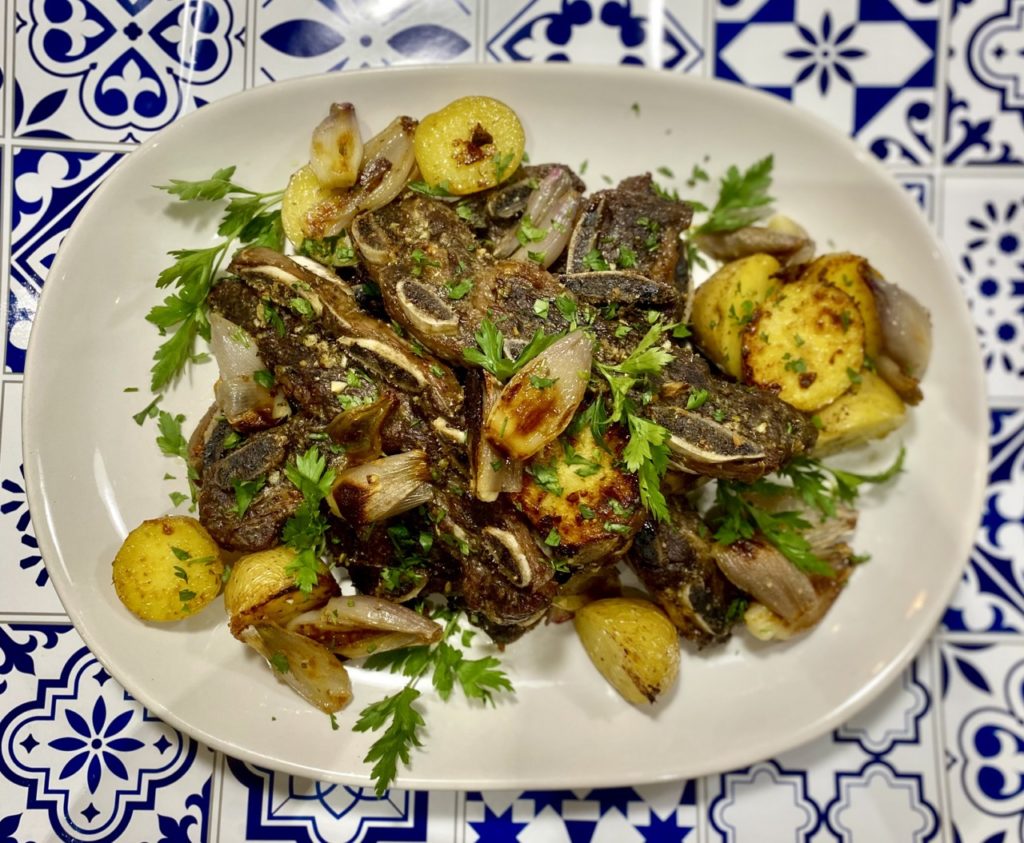 Creamy Orzo Recipe
Course: Sides
Cuisine: American
Difficulty: Easy
Ingredients
2 tablespoons of unsalted butter

2 tablespoons of extra virgin olive oil

1 ½ cups of orzo 

3 cups of chicken or vegetable broth

1 cup of heavy whipping cream

4 ounces of mascarpone

Salt and freshly cracked pepper

1 cup of parmigiano, finely grated 

Garnish: fresh herbs such as basil, oregano, parsley or chives.
Directions
Add the butter and olive oil to a large saute pan on medium heat. (You want to use a pan or pot that has a fitted lid.) 
Once the butter has melted, add the orzo. For the next two minutes you will lightly toast the orzo until most of them become golden brown. 
Raise the heat to high and add the chicken stock. Add salt and freshly cracked pepper. Mix together the orzo in the broth. 
Cover the pan with a lid and turn heat to low. Simmer for 7-9 minutes until the orzo has almost doubled in size and absorbed almost all the liquid. The orzo should still be al dente and there should be some liquid in the pan. 
Uncover the pan and raise the heat to high. Add the heavy cream and mascarpone. Stir constantly and allow it to thicken for about 3 minutes. This will continue to cook the orzo. 
It may seem that it has too much liquid, but you want it to be very creamy. It will naturally dry up once you serve it. If it's too dry, add another 2 oz of mascarpone to keep it loose. 
Turn off the heat and add 3/4 cup of parmigiano. Stir as you add it in. Taste the orzo for salt and pepper and adjust the seasoning as needed. 
Serve and top with more cheese, freshly cracked pepper, herbs and finishing olive oil.