This Black Garlic Salmon Recipe is going to show you how easy it is to make a perfectly cooked, perfectly seasoned salmon in the air fryer.
Why do we love this Black Garlic Salmon Recipe So Much?
This Air Fried Salmon is delicately seasoned with citrus and black garlic sea salt. The air fryer cooks the salmon perfectly, as though it has been professionally roasted. It's a real game changer.
Black garlic is such a great unique addition to any recipe. It's a warm dark color, and it has such a surprising sweet and tangy taste. It's not garlicky at all. Think of it more as something closer to molasses it's very concentrated and has an earthy tone. It is easy to spread, and we absolutely encourage it.
Again, we think this distinct unique flavor is what makes it the perfect complement for salmon. We paired Badia's Black Garlic Salt with their Lemon Pepper seasoning for a well-rounded and powerful punch of flavor. The results were spectacular! You find yourself thinking… about salmon… a couple of times a day.
What Salmon should you Buy?
We love Ora King Salmon and Faroe Island Salmon. They have a good amount of fat, yet are very balanced making them some of the best commercial salmon you can get your hands on.
Whatever salmon you buy, be sure it has been scaled, but with skin. If you don't like to eat salmon skin remove it after it has cooked. The skin keeps the salmon very moist so it's best to cook it with the skin in tact.
Years ago, I was against an air fryer. I wondered, like probably so many of you – "Is it worth it?" I quickly realized the answer is YES! Cristy and I like to think that simple and delicious recipes like this one, make the purchase and sacrificed counter space of an air fryer worth your while.

Ani
We are using THIS Phillip's Air Fryer for this recipe (and the video we posted HERE), but most of them work more or less the same. We have heard amazing things about the Ninja Air Fryer and you can find that one HERE
Our Tips for Using the Air Fryer with Fish:
Air fryers work best with foods that are high in fat or moisture so stay away from lean fish and stick to salmon, seabass and grouper for example.
Don't overcrowd the basket. Give the fish room to brown.
Avoid adding acid before you cook the fish or it can change the texture.
If you want to add butter, add it once the fish is cooked or it will cause a lot of smoke. 
Don't have an air fryer? Cook the fish on 400 for 10-12 minutes depending on how thick it is. If very thick it may need a little longer.
Check out our Other Fish Recipes
If you love Salmon, but are looking for something else to make, let us show you a few more of our delicious options. In addition to salmon we also have great recipes for White Fish, Grouper, Swordfish, and more and there are a few different ways to prepare them and cook.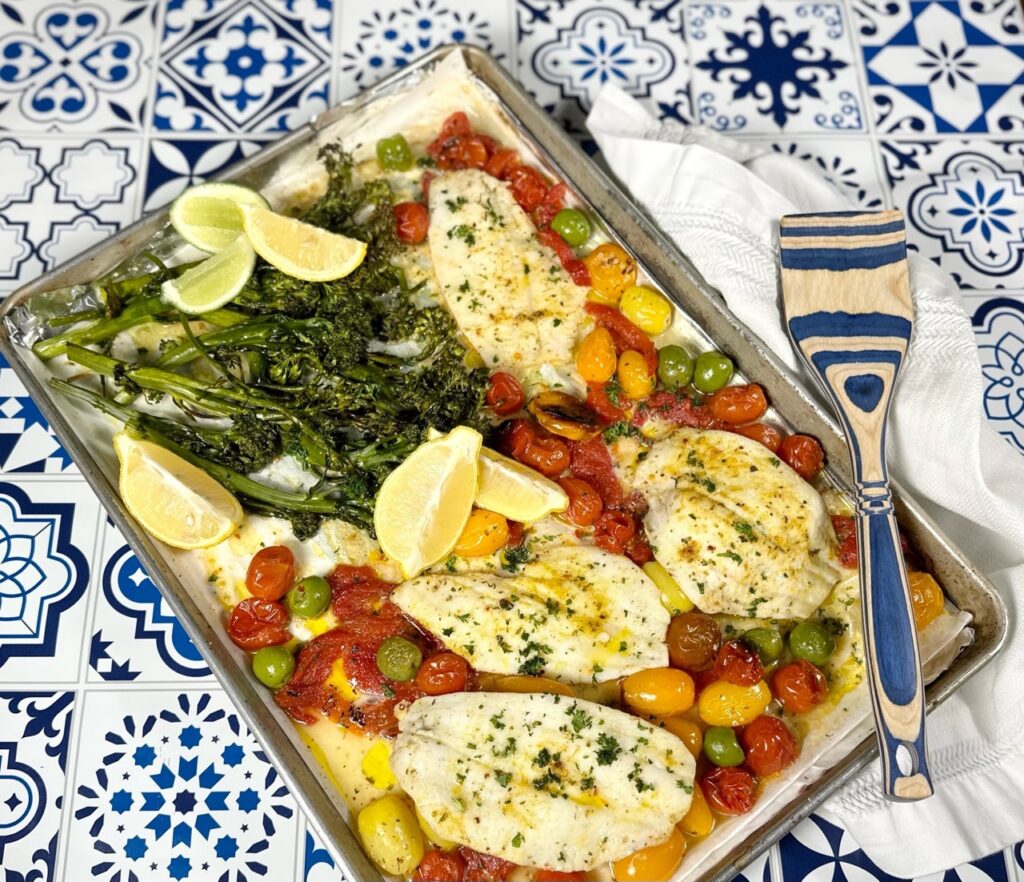 Black Garlic Air Fryer Salmon
Course: Entree
Cuisine: Cuban, American
Difficulty: Easy
Ingredients
4 salmon filets with skin on (6-8 oz each)

2 tablespoons of olive oil

1 ½ teaspoon of Badia's black garlic pink salt seasoning

1 ½ teaspoon of Badia's lemon pepper seasoning

Salt and pepper

Garnish: finely chopped herbs such as parsley or chives, lemon and lime wedges
Directions
Preheat the air fryer by setting the empty basket to 400 degrees for 5 minutes.  
In the meantime, brush ½ tablespoon of oil on both sides of the salmon filets with a tablespoon of butter.
Sprinkle with a small amount of salt and pepper. Then sprinkle evenly the black garlic pink salt and lemon pepper on both sides. (Even if you don't eat the skin, you still want to season both sides properly.)
Pop the seasoned filets into the air fryer basket with the skin side down. Set air fryer to 400 degrees for 8 minutes. Once the timer beeps, check the fish with a fork for doneness. If you need a little more time pop it back in. 
The salmon will be cooked to medium with a crispy exterior and a warm center. If you want it completely cooked through, add another 3 minutes to the cooking time. 
Serve and sprinkle with fresh herbs and a squeeze of citrus.