This Cuban Pork Chops recipe will have you making the most delicious most flavorful pork chops. The best part is how quick and easy it all comes together.
Our Cuban Pork Chops are marinated with citrus and sprinkled with Badia's orange pepper seasoning to bring to life that signature Cuban pork flavor. In our opinion, Pork chops/ Chuleticas de Puerco are a weeknight staple.
There is so much flavor, and it also comes together and can be on the table under 30 minutes. They are thinly cut, about ½ an inch thick, making it easier for the marinade to penetrate and ensuring they are cooked in less time it takes to set the table.
We love adding pork into our weeknight menu. It's great way to really break up the routine of chicken, or fish. It's a simple white meat, but it really holds so much flavor. Pork chops area a crowd favorite in both of our houses.
I grew up eating these about 2 to 3 times per week. My dad loves pork chops. Sometimes my mom would marinate them and sometimes she wouldn't. Sometimes she didn't have naranja agria or orange and only used lime juice. It didn't matter. They were always delicious and easy.

Ani
We love serving our Cuban Pork Chops with just simple yet Perfect White Rice and Maduros. However they also go perfectly with Weeknight Congri and Tostones.
If you are in the mood for Pork but not wanting to do Pork Chops we also have some Pork Tenderloin Recipes: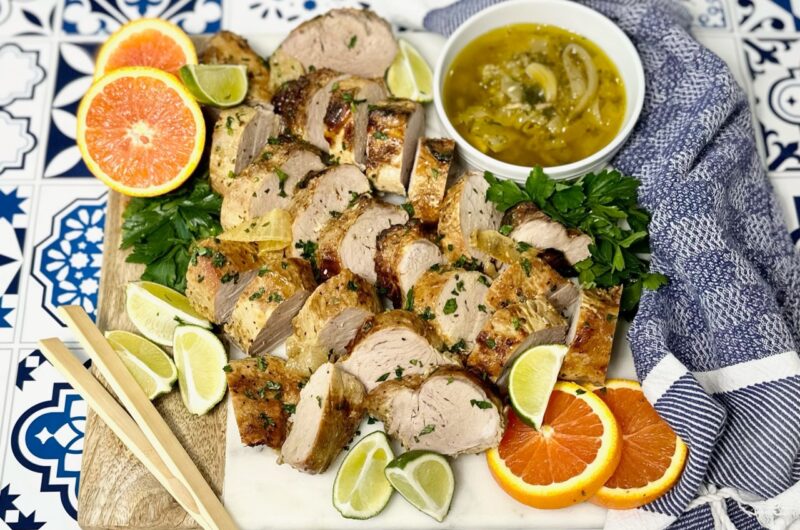 However if you are feeling ambitious you can always go for the whole shoulder Slow Roasted Pernil or find the shortcut in our Instant Pot: Pan con Lechon
Our Tips for Making Delicious Cuban Pork Chops
What kind of Pork Chops to Buy? As with anything that is cooked on the bone, the flavor multiplies. We recommend using pork chops on the bone. You can either buy center cut loin chops (the meat is on one side of the bone and is lean) or rib chops (the bone looks like a "T" and separates two parts. One large piece of loin meat and a smaller medallion of meat). The quality of pork is most important. Try to find Berkshire or Kurobuta pork for the most tender and tasty meat.
Is thicker better? If you'd rather use double cut pork chops, we love it! Just keep in mind you should season them the same way but they will take more than double the time to cook. Thick pork chops need to be finished in a hot oven whereas these thin ones start and finish over the stove top. Sear them on the stove top and pop them in the oven on 400 for 8-12 minutes depending on thickness.
We encourage you to try and marinate them if you have the time. Remember this is not essential, but marinating is never a bad idea. If you do marinate, make sure you take them out of the fridge around 20 minutes before cooking so they can come to room temperature. This will help them cook more evenly.
When cooking them, do it in batches. Over crowding the pan will never end well. It won't save you time, and things won't cook as evenly as you want them to. Be patient and do batches.
Cuban Pork Chops
Course: Entree
Ingredients
6 very thin pork chops

1 ½ teaspoons of Orange pepper seasoning from Badia 

1 ½ teaspoons of salt and cracked pepper 

3 garlic cloves, smashed 

1/2 cup of naranja agria or (1/4 cup freshly squeezed orange juice and 1/4 cup of lime juice) 

2 large white onions, very thinly sliced 

1/4 cup of olive oil 

Garnish with lime and freshly chopped parsley
Directions
Season both sides of the pork chops with orange pepper seasoning, salt and pepper. Add the chops to a large plastic bag. Add olive oil, garlic and the citrus juice over the chops.
Add in the sliced onions to the bag into the bag as well. Shake everything up. 
Marinate for 2 to 6 hours. If you don't have time to marinate its OK you can cook them immediately. They will still be delicious. 
Remove the pork chops from the fridge about 20 minutes before you are going to cook them. 
Heat a large ceramic or non stick pan to medium high heat. Working in batches, brown the pork chops on both sides for a deep rich golden color about 3-5 minutes on each side. You do not need to cook them through at this point. You only want to give them a crusty sear on the outside. 
It's important to work in batches so they sear nicely. (As the chops are cooked set them on a plate) 
Once all the chops have been browned, add the onions and marinating liquid to the pan. 
Cook on medium heat for 8-10 minutes. If you need a little oil to loosen things, this would be the time to add a tablespoon or so. 
Add the garlic and let that cook for 2 minutes. 
Once the onions are cooked through, add the pork chops back in the pan even if they are a little snug. Let all the flavors mix together and cook together for 5 minutes.