This Cuban Ropa Vieja Recipe is the perfect guide to a classic feel good meal. Ropa Vieja literally means, old clothes, which we always thought was just such a funny way to refer to something so delicious. But old clothes is kind of perfect. This beef shreds just like old clothes, and it's covered in peppers and onions and garlic. Throw in some rice and beans and Lord have mercy!
Let's get right down to it. Ropa Vieja like some of its other classic Cuban siblings is a little intimidating. Classics always are. You have expectations. But don't let nostalgia fool you. You can make this dish just as good as your Abuela or your mom or your Tia. Maybe not the first time, but you will get there. The best part is, you will find a way to make it yours.
What we think actually makes this dish a little scary is the time it takes. The recipe says 3-4 hours. The good news is- most of this is just boiling the beef and you can find a way to split it up. Ideally, you would boil the meat the day before. This helps not only save you time on the day you want to eat your Ropa Vieja, but it also makes it easier to dispose of the fat. When the meat is boiling, the fat rises to the top once you've kept the meat overnight, the fat is easy to remove. Then you can use the liquid as your broth when making the Ropa Vieja.
Other little things to keep in mind when making your Classic Cuban Ropa Vieja Recipe:
When deciding what to buy, for longer pieces you want to use flank steak for shorter pieces that are just as tender you want to use brisket
We recommend using a large sauce pot to make your sofrito and combine into your shredded beef.
At the beginning, do not add too much salt to the meat when you put it to boil. The meat needs to cook for a long time, and you do not want it to be over salty.
We like to slice the veggies long and thin for this one to go with the meat, but you can dice if that's your preference.
At the end, you don't want to over shred your meat. As the meat cooks with the Sofrito it will continue to shred, so give it some room to break down on it's own.
You can also watch our First You Tube Episode (HERE) where we walk you step by step through the recipe!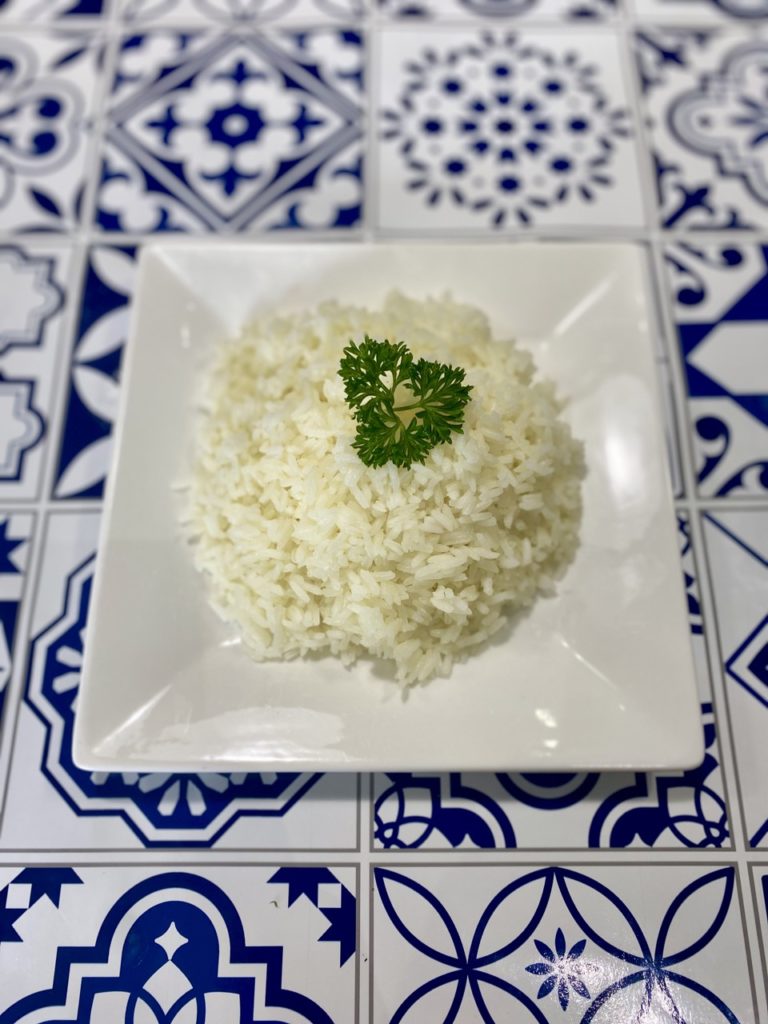 No Classic Cuban Ropa Vieja is complete with the Perfect White Rice. We have perfected the process, and can take you step by step to the perfect most delicious White Rice!
Classic Ropa Vieja
Course: Entree
Cuisine: Cuban
Difficulty: Moderate
Ingredients
3 pounds of Untrimmed Brisket or flank  (try to buy great quality meat such as prime It makes all the difference!) 

1/3 cup of extra Virgin olive oil, divided

12 garlic cloves, divided (for boiling the meat and sofrito)

1 tablespoons of tomato paste 

2 medium onions, finely sliced 

1 orange pepper, finely sliced 

1 red pepper, finely sliced 

1 poblano or cubanelle pepper 

10 bay leaves, divided

1 cup vino seco 

4 cups of the broth that the beef cooked in. 

1 tablespoon sazon

Salt and pepper 

Frozen Peas
Directions
In a large pot, place the whole brisket and cover with water. Add 6 bay leaves and the head of garlic. Bring to a boil then lower to medium low. Skim the top with a slotted spoon to maintain a clean broth. 
Cook for at least 3 hours always making sure there is water covering the meat. Cook until the meat is tender and starting to fall apart.  Remove the meat from the pot. Once it cools, pull apart the meat. Discard the chewy and fatty pieces. 

Meanwhile we work on the base of the ropa vieja. Start by adding the onions, remaining bay leaves, salt and pepper and sazon with about 1/4 cup of olive oil to your pan. Sauté on medium high heat until cooked and have some color. 5-7 minutes.  

Now you want to add the peppers, salt and add a little more oil and sauté for 3-5 minutes.  Then add the garlic with another bit of olive oil and sauté on medium for 2-3 minutes until it's cooked but not burned.  

Raise heat to high. Then add the tomato paste and stir well to let it incorporate with the veggies, check for salt and if you need to add a little more. Now add the vino seco and allow it to reduce while it boils together for 2 minutes.
Now it is time to add the shredded beef to the pot. Mix it all together, then add 4 cups of the cooking liquid and salt and pepper.  Cook together for 20 -30 minutes on medium low with the lid covered. 
Taste again for salt and pepper and add more cooking liquid depending on how you like it.