Crema de Malanga with Garlic Oil, is definitely an ode to a simpler time. With just a few simple ingredients malanga is transformed into a bowl of comfort.
Malanga was cure to all tummy troubles in our houses. However this was not just Cuban myth. Malanga is a root vegetable that is high in fiber, potassium and antioxidants. So it is actually a great addition into your diet and weekly dinner rotation.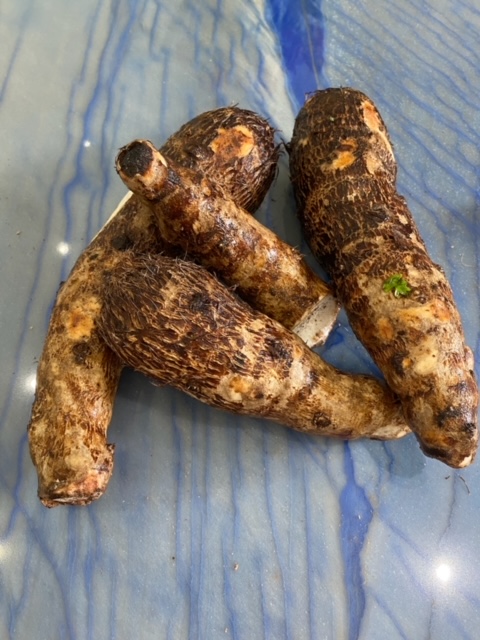 Malanga, is such a versatile ingredient. It's one of those vegetables that you can transform into anything you need it to be. You can blend it into this delicious soup. Malanga can be simply roasted with salt and olive oil, made into mashed potatoes, thrown into a Sopa de Pollo or fried into Frituras de Malanga. It has a way of just taking on whatever seasoning or flavor you want to give it.
In this Crema de Malanga recipe we are just adding a little cream and milk along with garlic to make something so delicious. You want to try to buy the malanga on the bigger side. You just want to peel off the skin, and the best way is just to carefully slice the skin off with your knife. Then you can wash off the malanga and cut it into squares.
Our Tips for Making the Most Delicious Crema De Malanga Soup
When peeling the Malanga you can use a regular peeler (like THIS) and once you have removed the brown skin, you just give it a good rinse. You can also use a knife to cut the skin, but you run the risk of losing a lot of good white flesh.
Malanga can turn gummy quick. So when you are blending it with the immersion blender, or using your food processor you want to be careful not to over blend. Better to blend a little at a time, then go fast here. If you are using a food processor, it is best to go in batches. You don't want to over fill the food processor, and again you don't want the malanga to go gummy on you.
You can cut a little of the cream or milk with water if it feels too thick or you want to lighten it up a little.
Let's Cook!
Crema de Malanga
Course: Soups
Cuisine: Cuban
Difficulty: Easy
Ingredients
3 pounds of Malanga (3-4 large pieces) 

2 cups of whole milk, warm

2 cups of heavy whipping cream, warm 

8 whole garlic cloves

2 bay leaves 

1 tablespoon of salt 

Garlic Oil

1/2 cup of extra virgin olive oil

8-10 garlic cloves, thinly sliced 

2 tablespoons of butter 
Directions
In a large pot add malanga, garlic, bay leaves and salt. Cover with water. Turn heat to high and bring to a boil. Boil on medium/ high heat for 30 minutes or until the malanga is completely fork tender. 

While the malanga cooks, warm up your cream and milk. Then you can get a start on the garlic oil by adding the oil, butter and garlic to a sauce pan and cooking for 5-7 minutes on medium/low just until the garlic gets golden. Set it aside. 
Drain. Remove the bay leaves. Add the warm milk and cream.  Then using an immersion blender to blend together until the malanga is creamy. If you do not have an immersion blender, then you can blend in batches using a food processor


You must be careful not overmix or the malanga can get gummy. 

Serve with some sea salt and a drizzle of the garlic oil.