This Guava BBQ Sauce Recipe is going to be a little twist on your traditional BBQ sauce. It's so easy to put together and so delicious. The crowd will go wild.
It is hard to have a bad day when there is BBQ Sauce involved. Think about it. If your day involves BBQ Sauce then you were likely having a meal with a friend, or at a backyard BBQ and there is definitely something delicious to eat.
It is a given that the food is delicious, BBQ sauce is involved. We came up with this BBQ sauce specifically with our Oven Roasted Ribs in mind. Naturally, it's hard to think of BBQ sauce and not think of ribs. However we couldn't help but wonder, what else could we put it on?
The answer is anything. This sauce will go well with anything you like to grill. For example we slathered it on our new Guava BBQ Chicken Thighs. These bad boys are guaranteed to be your new go to all summer long. v
The truth is, you can use this sauce on anything you're in the mood for. This could be perfect on some Pollo Empanizado, or great with Abuela's Frita.
This Guava BBQ sauce hits all the right notes. It is not as sweet as you think it is. There is a great balance with the tomato sauce, soy sauce and Worchestire sauce that keeps the flavor of the sauce right where you want it. The perfect punch of flavor.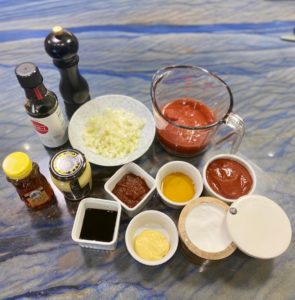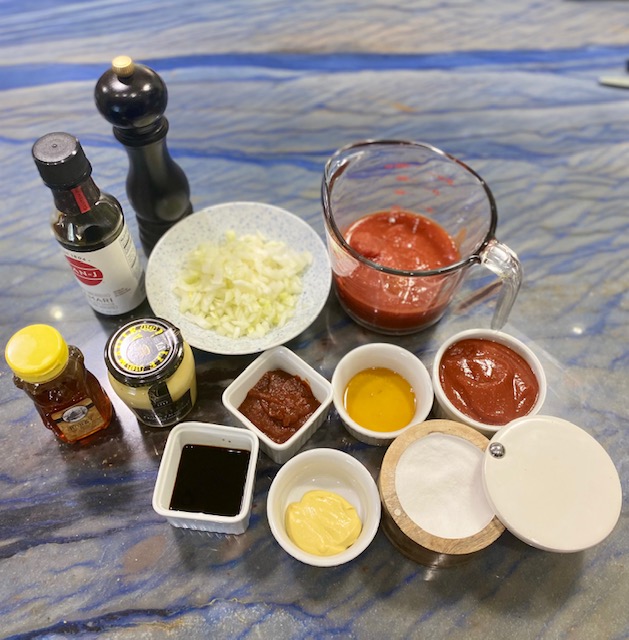 Our Biggest Tip for Making Guava BBQ Sauce
This recipe is as simple as cooking your onions through, and then adding in the ingredients and letting it all meld together. Whether you're doing the ribs or the chicken thighs, you just brush it on and let the sauce do all the heavy lifting.
Grab your ingredients, and get ready to have some finger licking fun.
Guava BBQ Sauce
Course: Marinade
Cuisine: Cuban American
Difficulty: Easy
Ingredients
2 cups of tomato sauce 

10 oz guava marmalade 

1 onion 

2 tablespoons olive oil 

Teaspoon of garlic powder 

1/4 c soy sauce 

1/4 c ketchup 

1 tablespoon Dijon mustard

Teaspoon of Worcestershire 

1/4 c honey

Salt and pepper 
Directions
Sauté onion in oil over medium heat in a medium sauce pot. Add garlic powder, salt and pepper and cook onions until softened about 5-8 minutes. 
Add the remaining ingredients.  Raise heat to high and once it comes to a boil cover and lower heat to the lowest setting. Simmer for 15 to 20 minutes. 
Taste and adjust seasoning as needed.