This Panetela Recipe is the secret to making a fluffy homemade pound cake right in your own kitchen.
When we were growing up, there was always Panetela in the house. On the rare occasion, Abuela had made some fresh, but more often than not it was store bought. Who can resist that Sara Lee panetela when it was time for snack? It's perfectly sweet, crumbly and scented with vanilla.
You can also use it to make our super Easy Quick Tres Leches Hack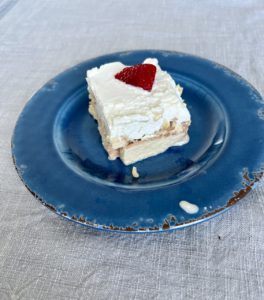 The word "poundcake" gets its name from the ingredients – a pound of flour, a pound of butter, etc… But we find that tweaking those measurements makes for a more fluffy pound cake and the perfect accompaniment to a café con leche.
Our Tips for the Perfect Panetela
Keep all the ingredients at room temperature. Have you ever made a cake and noticed that your batter is separated? It's probably because one of your ingredients was very cold while the others were at room temperature. When all the ingredients are at the same temperature, it is more likely to fold into each other, which ensures a smooth batter.
Do not preheat the oven! Unlike most baked goods, which ask you to preheat your oven before baking you purposely do not preheat your oven for this poundcake. Yes it's true! Starting in a cold oven helps the batter rise slowly forming a very fluffy cake and a very crisp crust. It's the best of both worlds.
Double the recipe for Double the fun. This recipe makes 1 loaf pan but you can double it and make it in a beautiful Bundt pan.
We love pairing this pound cake with our Chocolate Sauce, Turron Ice Cream or you can make fresh whipped cream and berries.
Panetela (Poundcake Recipe)
Course: Desserts
Ingredients
1 ½ cups all purpose flour

1 teaspoon baking powder

½ teaspoon baking soda 

¼ teaspoon of salt

1 ½ sticks of unsalted butter, softened at room temperature 

1 ½ cups of granulated sugar

3 eggs, at room temperature

1 tablespoon of vanilla extract 

4 oz sour cream, at room temperature

4 oz of cream cheese, softened at room temperature
Directions
Don't preheat the oven! Grease a loaf pan then line the pan with parchment paper. This will help you remove it from the pan. 
In a bowl add the flour, baking soda, baking powder and salt. Whisk until combined then set aside. 

In a large bowl add the butter and cream cheese. Beat with a handheld mixer until incorporated. (This is why they need to be at room temperature.)

Add the sugar into the butter and cream cheese and beat for a couple of minutes until it's completely disintegrated into the butter.

Then add the vanilla and eggs one at a time and beat together for another few minutes.
 Add the sour cream and blend again until combined. 

Then add the flour mixture. Mix until just combined. You don't want to over mix at this point or you will end up with a poundcake that isn't as fluffy and full of holes. 

Turn the oven to 350 degrees and bake for 50-60 minutes until the top is golden brown. Insert a toothpick into the center of the poundcake. The toothpick should come out clean or have only a small amount of crumbs stuck to it. 

Cool on a wire rack and remove from the pan after about 45 minutes when the poundcake is cool but still warm.