Platanos Maduros are a Cuban staple. Whether you like them love them or want to leave them, you will usually find them on the Cuban table. Cuban Plantain Recipes are pretty basic and universal. Since plantains become very sweet and delicious once they are ripe, there is not much you have to do.
You want your plantains to be completely black for the sweetest and most tender Platanos Maduros. If they are yellow with black spots, pinton style, you can still use them but keep in mind they won't be as sweet.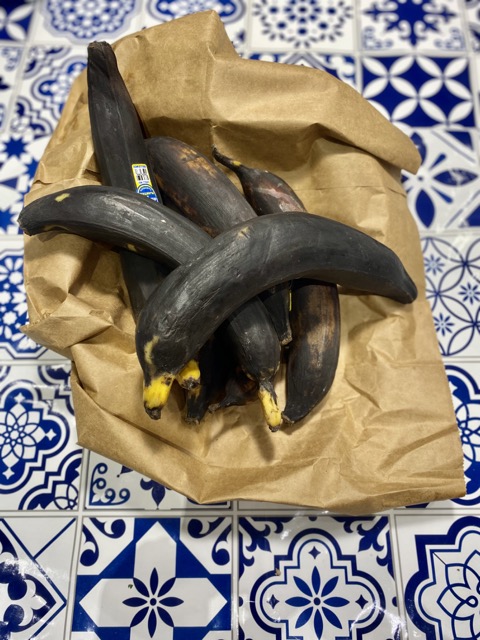 Most people would argue that you are either team maduro or team Tostones. We firmly believe in both! However there are some occasions when only a sweet and sticky maduro will pair as the perfect side dish. We think they are best served with very savory dishes like Ropa Vieja, Picadillo or Arroz Con Pollo.
Serve them just as they come out of the fryer, because as they sit, they will start to get stiff. You can also cover them with plastic wrap to keep warm as the other ones cook If you make them and want to reheat them, the best way is for a few minutes at 300 degrees in the air fryer.
Platanos Maduros (Cuban Plantain Recipe)
Course: Sides
Cuisine: Cuban
Difficulty: Easy
Ingredients
3 sweet plantains (they should be completely black or yellow with a lot of black spots) 


1 cup of vegetable or canola oil 
Directions
Peel each plantain. It's easiest to cut off one of the ends, make a shallow slit down the side and peel carefully.

Cut the plantains diagonally into 1-inch slices. (Don't cut them too thin or they will soak up the oil and be very greasy).
In a large skillet heat the oil to medium high heat. Start frying them in batches. Try not to overcrowd the pan. They will take about 3-5 minutes per side. Let them caramelize and golden brown on each side. 
Have a plate lined with paper towel to drain the ones that are ready. Serve plantains immediately or they can get hard and dry out