Our Turkey Picadillo Recipe is our healthy modern twist on a classic Cuban dish. Traditionally Picadillo is made with ground meat or ground pork, or even a combination of the two. We love the traditional recipe, in fact HERE is our original recipe. It is delicious, but for the weekday meal sometimes you are looking for something a little lighter and packed with even more nutrition.
Ani would even say that she likes this Turkey Picadillo better than the classic. We don't totally agree on everything. The classic is well, classic. But this recipe is so delicious, it will absolutely become one of your favorite week day meals.
Of all Cuban dishes, picadillo is usually considered the most approachable. As it should be. Picadillo is a one pot wonder! The process is pretty straight forward: ground meat with sofrito (tomato paste, olive oil, onions, garlic, herbs, and peppers). We are not here to change the simplicity of the meal.
We are just making a few changes to make it a bit healthier and bring more veggies into your weekly rotation. Cuban food is delicious but it is not always best for your jeans. So with just a few substitutions you are cutting calories and adding nutrition. It's a win-win.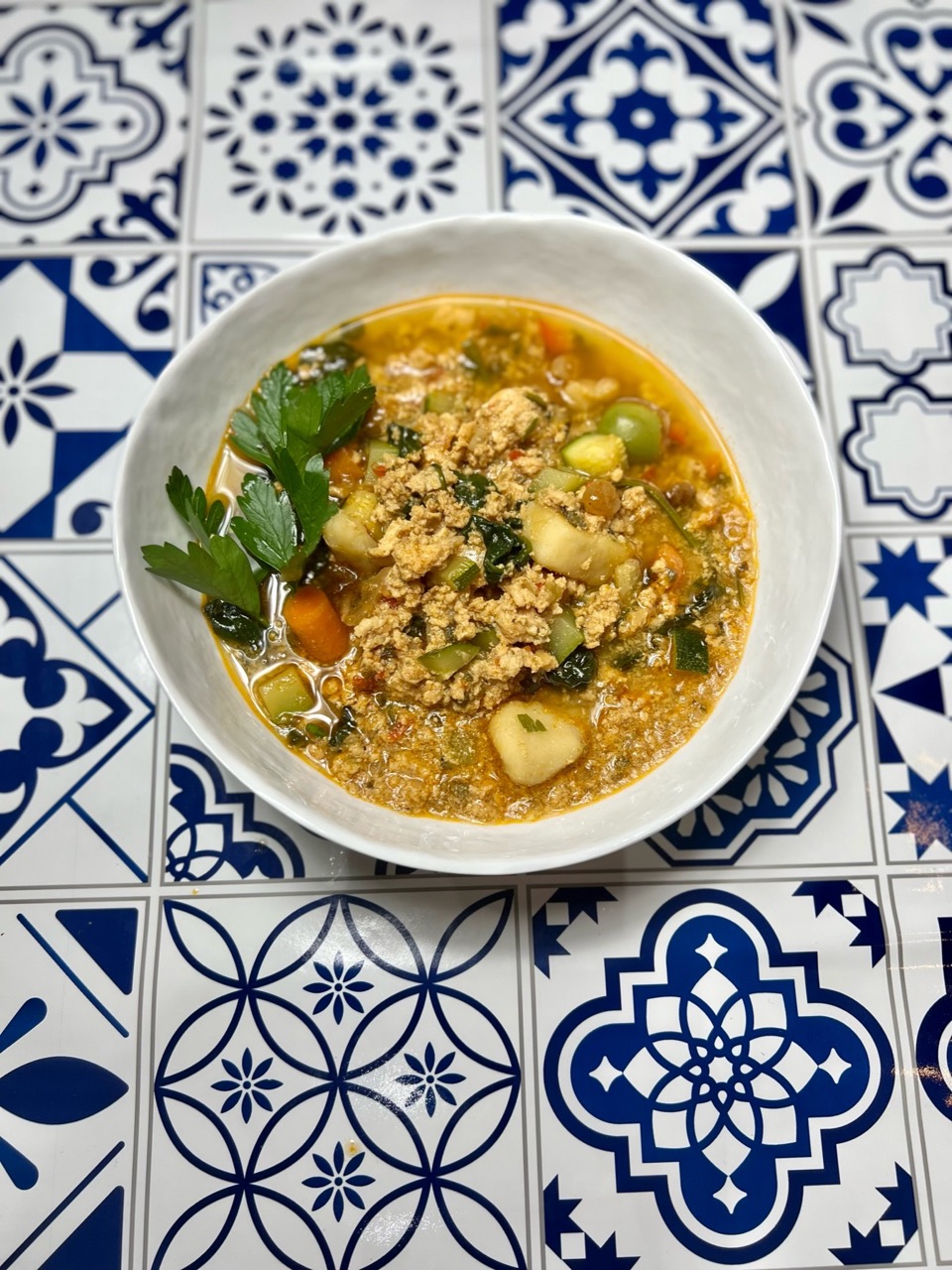 A Good Rule of Thumb When Making Our Turkey Picadillo Recipe
A good rule of thumb to remember: if you don't have any of the ingredients listed below you can find a substitution for it or go with what you have. For example: if you don't have orange bell peppers add in more red. If you don't have a Poblano or Cubanelle go with green. Cooking is not an exact science, you can make most things work. Don't let missing ingredients stop you.
Let's do this!
Turkey and Veggie Picadillo
Course: Entree
Cuisine: Cuban
Difficulty: Easy
Ingredients
2 pounds ground turkey (we like 93/7. Try to avoid the breast because it will dry out)

1/4 cup extra Virgin olive oil, plus 2 tablespoons 

2 large yellow onions, finely chopped 

1 red bell pepper, finely chopped 

1 orange bell pepper, finely chopped 

1 poblano or cubanelle pepper, finely chopped 

6 cloves of garlic, finely minced 

2 bay leaves 

Salt and pepper 

1 1/2 cups of great quality Vino seco or good white wine 

3 cups of chicken stock, bone broth or water 

1 (8 ounce) can tomato sauce 

1/2 cup of green manzanilla olives stuffed with red peppers (with some of the brine) 

1/2 cup golden raisins

1 tablespoon capers 

1 large sweet potato, cut in small and even dice (I love Hannah sweet potato in this but if you can't find it a traditional sweet potato works great)

1 1/2 tablespoons of Abuela's Sazón 

4 cups of fresh baby spinach or baby kale 

1 cup of frozen peas, thawed 

1 zucchini chopped into 1/4-inch squares 
Directions
In a large non-stick pot pour 1/8 cup of oil on high heat. Once hot, add the ground turkey, half of the sazon seasoning, salt and pepper. Brown the Turkey for 5-7 minutes keeping the meat in tact. Once it is golden brown move to the side of your pot. *Don't wait for it to be cooked through or it will dry out. 
Add another 1/8 cup of oil keep the heat high, and add the onions, remaining sazon, salt and pepper and cook on medium high for 5-7 minutes until translucent and cooked through. Once cooked, add peppers cook for 5 minutes. Then add the garlic and cook for another 2 minutes. Continue to cook and combine until everything is softened and golden. 
Incorporate everything into the turkey and begin breaking it apart. 
Raise the heat to high. Add the bay leaves, tomato sauce and vino seco. Allow it to reduce slightly for 3-5 minutes. Then add three cups of the broth.   
Once the mixture is bubbling, drop to low add the sweet potatoes and cook together for 20 – 25 minutes. Then give it a taste and see if you need the last cup of broth and more salt and pepper.
It truly depends how you like it. Lastly, add the zucchini, spinach, peas, olives, raisins, and capers. Simmer together for 5 minutes and serve. Serve with Cauliflower Rice, Brown Rice, or Lettuce Shreds.