This Classic Cuban Rabo Encendido Recipe is going to take you step by step so you can make this delicious comforting dish at home.
Rabo Encendido or braised oxtail, is one of the most rich and delicious classic Cuban dishes. There is a heavy African and Caribbean influence but tastes unique because of all the flavors and cultural influences blended together. Some call this dish rabo estofado, which means oxtail stew.
What is Rabo Encendido
Rabo is oxtail. In this dish, the oxtails, which refer to the tail of a cow, are braised in sofrito, sherry and red wine. Once the oxtail braises it becomes so soft. It's falling off the bone, it is dripping in a thick sauce and it really is one of Cuba's most perfect bites.
A habanero pepper gives it the signature "encendido" flavor which translates to "on fire." The dish gets its name from adding heat with different types of spice – chilli flakes, habanero pepper and hot sauce. However, the dish isn't overly spicy. It all comes together beautifully and has a lot of flavor.
To Marinade or Not Marinade Your Rabo?
This recipe calls for you to marinate your rabo for at least 4 hours. While we know how difficult it can be to prepared. We do actually believe that in this dish, marinading will go a long way. The red wine helps cut through some of the fat and tenderizes the meat. It will really help guarantee your success in this recipe.
Like most braised dishes, rabo encendido tastes even better the next day. Once it completely cools in the fridge it is even easier to remove the fat from the liquid. Less fat in this type of dish helps all the flavors shine even more.
Our Tips for Making Cuban Rabo Encendido
The oxtails will take at least 3 hours to breakdown and become tender. It could take 3½ hours depending on how big the oxtails are.
If you want to skip on the spice all together you can or start off with one of them and not all three spicy elements.
Oxtails are full of collagen and fat. As they cook, the oxtails will release their fat into the braising liquid. You will need to skim the fat that rises to the top of the pot. It's impossible to get all of it but get as much as you can.
Serve this with Cuban White Rice and Classic Tostones, or even Creamy Orzo. A big loaf of bread would be ideal for sopping up the extra sauce on the plate. Usually we end up eating rabo with our hands to make sure each every piece of meat is devoured. Do it. No one is watching!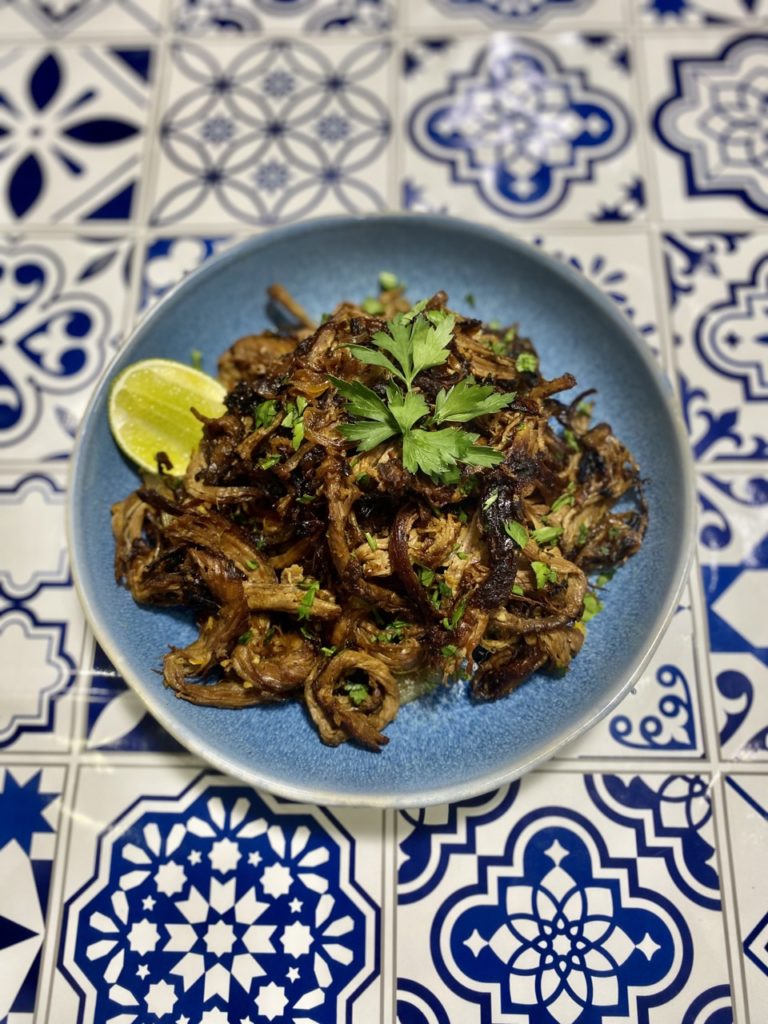 Classic Cuban Rabo Encendido Recipe
Course: Entree
Cuisine: Cuban
Difficulty: Moderate
Cooking time
3
hours
30
minutes
Ingredients
10 -12 pieces of oxtail

7 cups of red wine, we like to use merlot 

½ cup of all purpose flour

1 tablespoon of sazon

1 packet of saffron leaves

2 tablespoons of tomato paste or ½ cup of tomato sauce

¼ cup of Cardenal Mendoza or a dry sherry

2 cups of beef or chicken broth

1/3 cup of avocado oil

½ teaspoon of red pepper flakes 

1 habanero pepper, left whole 

1 red bell pepper, finely chopped

2 onions, finely chopped

8 cloves of garlic, finely chopped

4 bay leaves

½ teaspoon of cumin

6 sprigs of oregano, left whole

2 tablespoons of hot sauce, choose something spicy and vinegar based 

1 cup of green olives, we like to use manzanilla or Castelvetrano olives

1/3 cup of parsley, finely chopped 

Salt and freshly cracked pepper
Directions
Prep: Trim away some of the fat from the oxtails. In a deep baking dish lay all the oxtails in one layer if possible. Cover with 3 cups of red wine, 2 oregano sprigs and 2 bay leaves. Cover with plastic wrap and soak overnight or at least for 4-6 hours. 

When ready to cook: Once you are ready to start cooking, remove the oxtail from the wine and pat dry with paper towel. Discard the wine where the oxtails were soaking. Season with salt and pepper. Dust each oxtail with flour on all sides. 
Heat a large heavy bottom pot to medium/ medium high. Add the avocado oil.  Sear each side of the oxtail until golden brown working in batches. It will be about 2-3 minutes per side. As you sear each one you can place them on a plate. Set them aside as you begin to make the sauce. Discard the extra oil in the pot.
Add the onions and peppers to the pot. Season with salt, pepper, red pepper flakes, sazon and the saffron. Heat the pot to medium. Cook the vegetables for 5 minutes or until softened. If you need more oil to help soften the vegetables then add about 2-3 tablespoons of oil. 
Push the vegetables to the side and saute the garlic for 2 minutes until it is just golden brown. Combine everything together. Adjust heat to high. 
Add the tomato paste, Cardenal Mendoza, 2 cups of broth and 2 cups of red wine to deglaze the pan. Add the carrots and the seared oxtails back into the pot. Try to line up as many oxtail as you can into one layer. Do this even if you have to creative and put some on their side. If there's too many and you have to pile some on top of each other it's ok. At this point you want to make sure the liquid is covering the oxtails about ¾ of the way up. 

Raise the heat to high so the liquid is vigorously boiling. Add the habanero pepper. If you want more spice, split the pepper in half so it releases its spicy oils. 
Cover the pot and lower the heat to low. It will take about 2.5-3.5 hours. Check on it every 30-40 minutes stirring everything around in the pot and scraping the bottom to be sure nothing sticks to the bottom. 
You want to be sure there is always a soft boil so the oxtails breakdown and soften.  About an hour into the braise, add another cup of wine and a cup of water if necessary. 
 
At about 2 ½ hours, check on the meat to be sure it is pulling apart from the bone. If it needs more time leave it covered on low.
Once the meat is ready, skim the fat from the top. Discard the fat. Taste for salt and spice. If you can tolerate a little more heat add a few dashes of hot sauce and taste again.
Add olives and parsley. Serve 1-2 oxtails per person and spoon over plenty of sauce.
Recipe Video